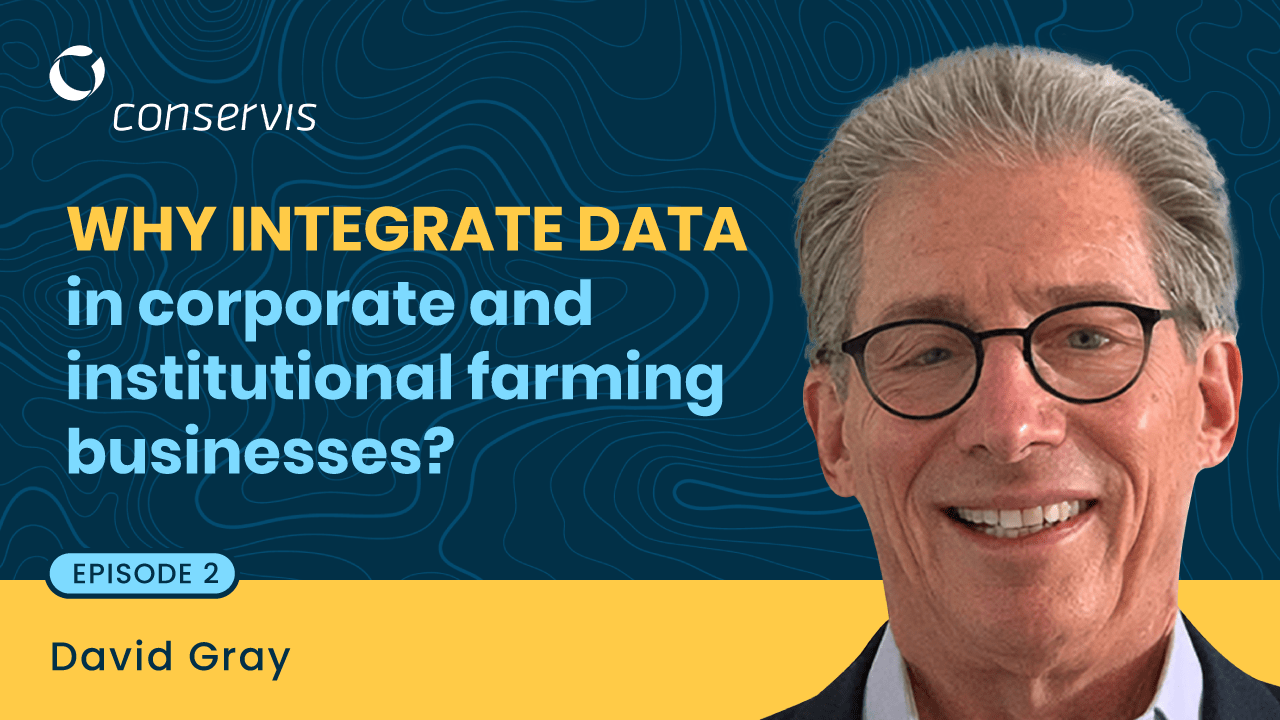 in corporate and institutional farming businesses?
Welcome to Episode 2 of the Conservis Farm Management Webinar! If you're here, you're a specialist or an enthusiast in the corporate or institutional farming industry, and we're happy to have you!
In this segment, David Gray, Senior Vice President of Corporate and International Markets at Conservis, presents his thoughts on data integration into the farming industry and the impact it can have on businesses.
While technology and investor understanding has progressed, agriculture continues to be one of the least digitized industries in the world. How can principles of good business management apply to corporate agriculture and smaller farming businesses? Better yet, how does business process management align the stakeholder with operational outcomes?
Let's talk about it!
Centering Business Information and Processes
Informal processes are progressively replaced with formal governance and reporting, especially as what we know as "Main Street" becomes more and more tied to "Wall Street."

There are roughly $100-150 BILLION in capital allocations to agriculture at a global scale, accounting for 1-1.5% of total managed allocations.
What is a Corporate Farming Business?
Corporate farms can be owned by financial investors, be publicly listed or privately owned, or a more complex family-owned farming that is either operating at scale or seeking scale.

Corporate farms commonly handle the interests of multiple stakeholders, have formal reporting processes and risk management, and handle decision-making in a decentralized way.

Investors don't necessarily have agricultural knowledge. Rather, they are driven largely by data and will seek resilient businesses that can generate returns.
How Farming is Changing
Consumerism

- There is growing consumer pressure for the industry to gravitate toward more sustainable practices in agriculture.
The Private Sector -

In line with consumer ideals, the private sector emphasizes the importance of ESG goals (Environmental, Social, and Governance).
Government & Regulation -

Regulators continue to strengthen their hand in the industry and incorporate strict compliance measures. Self-reporting structures are now overtaken by third-party auditors.
Sustainability

- The importance of carbon or climate-centric agricultural practices is more clear than ever.
Return on Investment -

Financial and social responsibility are both taken into account in the reputation of a business.
Ag-Business Process Management
There are seven core business processes to consider at both the management and operational levels:
Financial Planning

- When a financial plan is agreed upon, the operational level is provided a budget forecast. This helps define the fundamental building blocks of a growing season. These projections can be used throughout the season to evaluate progress.

Input Procurement

- This step is crucial in helping growers understand the full cost of inputs and production, ultimately leading to a better evaluation of a farm's profitability.

Production Management

-

Setting expectations for how field activities are recorded and how results can be tracked at the operational level for the most efficient and ideal results.

Sales & Risk Management

-

How forward sales, hedging, and net positions are handled so that a farm assumes the least amount of risk.

Revenue Management

-

Ensuring that sales are being tracked, deliveries are taking place on schedule, and settlements are being collected from buyers.

Green Line Growth & Compliance Reporting

-

Deliverance of environmental and regulatory compliance reports to necessary constituents. These can include

ESG Initiatives, sustainability, carbon emissions, water usage, and compliance.
Financial & Operational Analysis - Looking at seasonal profitability through data collection for assessment and performance improvement. These can include actual spend vs. budget, margin analysis, benchmarking, and planning.
Know Your Market
Team performance demands KPIs (Key Performance Indicators), and market access demands information. Access to capital, then, is result-based. There is an important emphasis on data being timely, accurate, and complete for all constituents.

Farm Information is a critical asset to the following (and more!):

Investors

Lenders

Retail & Food Companies

Consumers

ESG/Carbon Auditors

Crop Insurers

Prospective Buyers

Employees

Management Parties
About David Gray:
David began his venture into the agricultural industry as an investor and has seen, firsthand, many of the challenges experienced by building farm-focused portfolios. David works to bridge the gap between investors and farm managers so that stakeholders may gain access to relevant information pertaining to the industry. David prioritizes transparency and emphasizes the importance of language that is easy to understand.
CONNECT WITH DAVID ON LINKEDIN
Conservis' Purpose:
To be a farmer's advantage for making decisions, simplifying operations, and maximizing profit. We deliver better insights by centralizing and reporting planning operations and financial data.
Conservis LLC was founded in 2009 and is relied upon by row, specialty, and permanent crop farmers across North America and Australia.
Connect with Conservis:
CONNECT WITH CONSERVIS TO LEARN MORE