By Chuck Faison, VP, Commercial Solutions at Conservis
The benefits of vertical integration are clear - greater efficiencies across multiple layers of the business, reduced costs enabling long-term growth, and deeper control over the entire agricultural production process with less effort. Getting there, however, requires the ability to easily flow data throughout the operation.
Manifold levels of operations collect varied, valuable data points
Large, complex, growing operations rely on sophisticated systems and processes. Within the agriculture industry, the data sets are as prevalent as the tap root of a walnut tree, deep and reaching out across ever-expanding levels.
Three challenges of operationally complex data
Gathering the right data, at the precise time, is time consuming. It requires multiple people across numerous departments to pull in the data and coordinate the necessary reports.

Providing consistent and reliable data sets is a constant challenge. For example, field workers might refer to an input as Roundup, the purchasing department may buy Roundup PowerMAX®, but regulation requirements might require a report referring to it as glyphosate.

Assembling data into actionable reports is prone to human error if automation is lacking. The resulting errors make the data useless, and the decisions uncertain.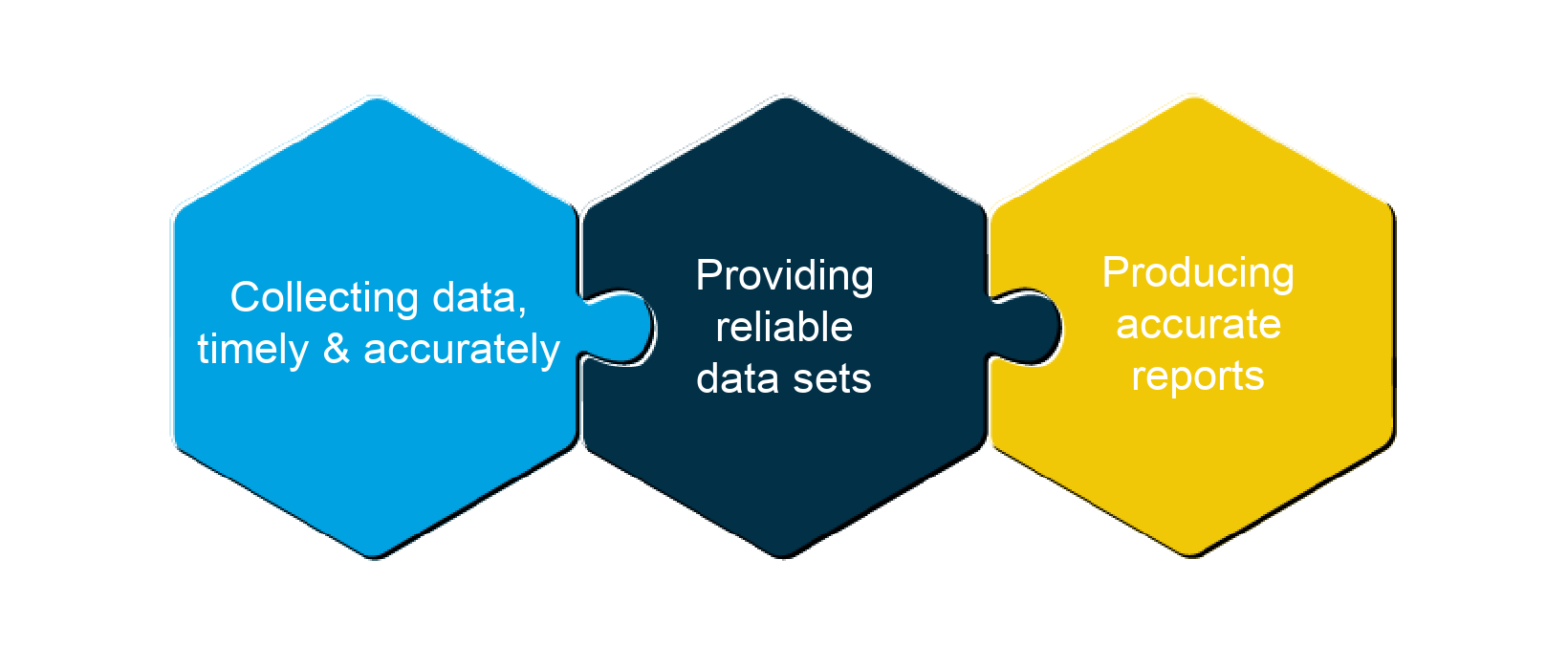 From input management during the planting season, managing crop deliveries and revenue during harvest, to cost analysis after harvest, each segment of data is important to running the operation. However,
farm data often is in individual segments requiring people to undergo the task of combining it - and making sense of it.
Growers seek streamlined solutions for complex farm data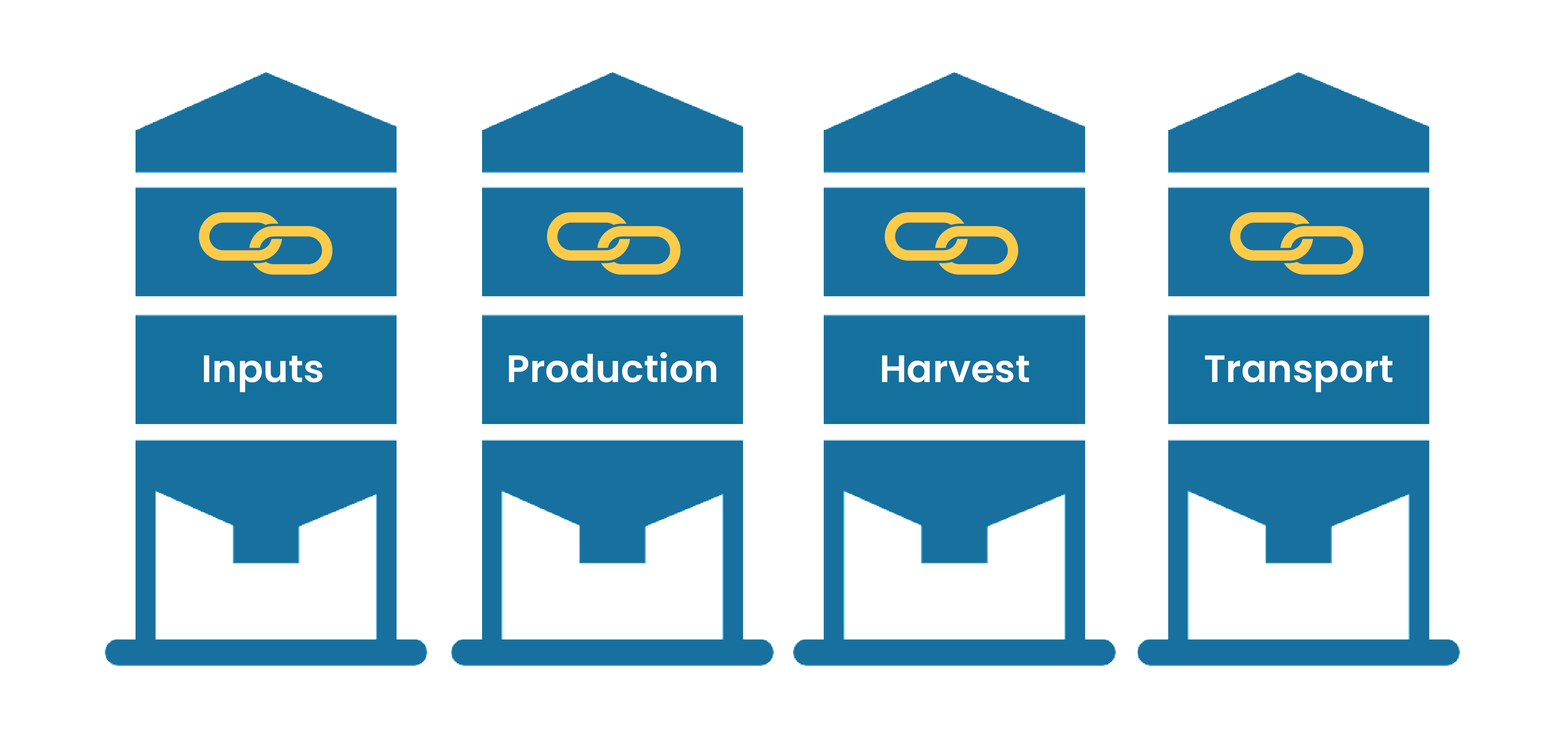 While there can be overlaps, these individual silos of data generally contain interrelated components that need to be merged with financial data to provide the bigger picture.
Inputs

- inventory and value of raw materials

Production

- budgeting, planning work, tracking activities

Harvest

- capturing crop movements, customer deliveries, and crop values

Transport

- including

storage and distribution
With all of these diverse and yet interrelated components, it can be difficult to find methods for communicating from the field to the back office. We consistently hear this question from growers:
I have all of these individual tasks, tools, and activities, but how do I get them to come together so I can make real sense of the data?
The answers to questions like this exist - and are empowering growers to know more about their operations, make more informed decisions, and ultimately see the returns in revenue, not just yield.
APIs bring silos of farm data together
In a landscape where multiple offerings provide varied services, the answer lies within a suite of APIs - or application programming interfaces - that enable communication between data segments. APIs are the bridges between data sources, and when applied across an agriculture operation, result in a streamlined solution.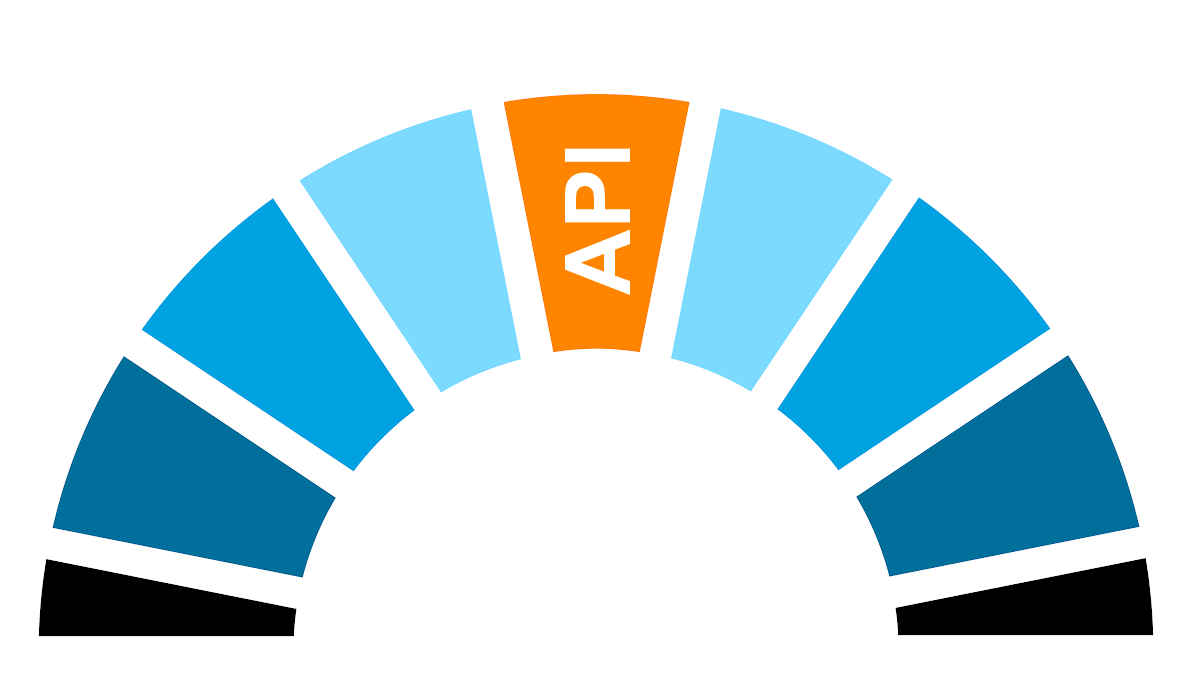 Field data and farm financials are often separate bins of data. The combination of enhanced cloud storage and API development now enables growers to leverage the opportunities of integrated information sources. With APIs, Conservis is the hub of farm data, building bridges that allow otherwise separate silos of information to communicate efficiently.
Easier agriculture data management is possible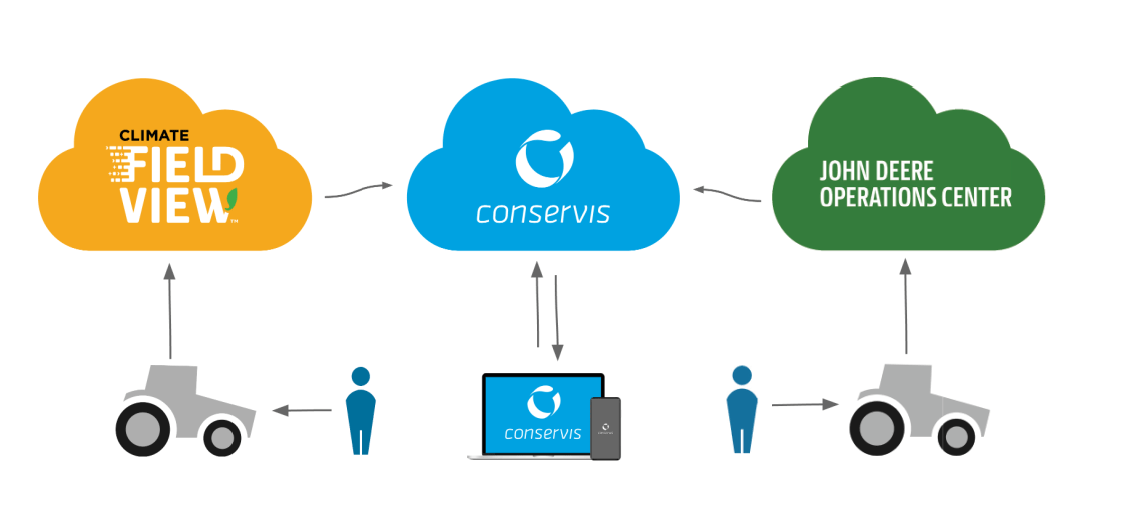 From there, Conservis takes a bidirectional approach to managing that data in useful ways, using APIs to smoothly move information from one area to the next. The main silos of this data journey are integral parts, but they do not provide the complete picture the corporate farm needs to take full advantage of their data.
Our direct and internal dashboards exist across five general stages of the production process. These five general layers in the production process include inputs, harvest, transport, and storage and distribution.
We provide farm data connectivity, including real-time activities and associated costs that give sight to the overall financial picture, along with enhanced reporting capabilities.
Connecting data beyond the production process
There are many processes and data sets agribusinesses require for true vertical integration. This is where additional APIs, or gears that empower different layers of an operation to smoothly connect on-farm data to other areas, becomes critical.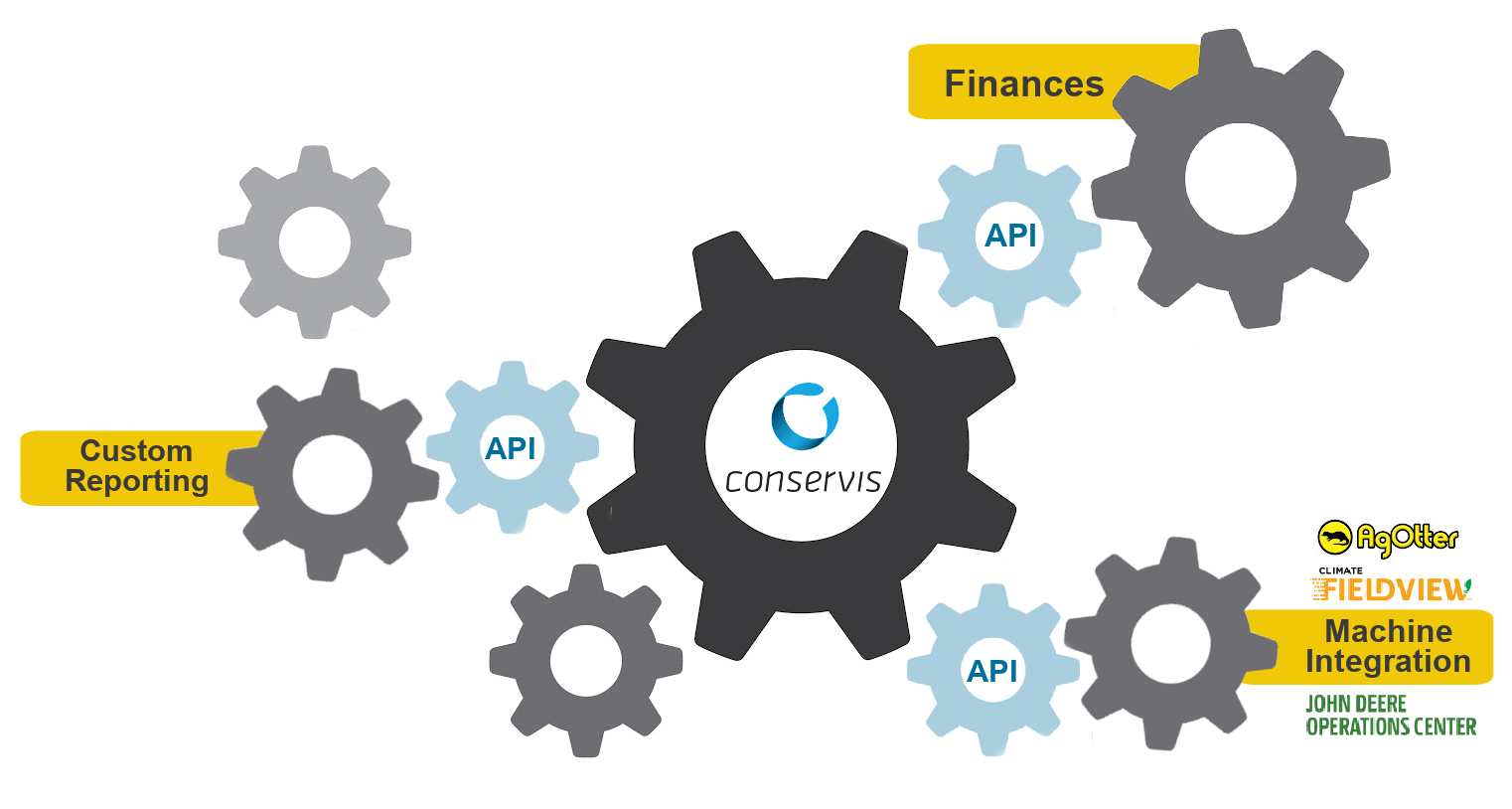 Beyond on-farm integration, our evolving API suite enables a strong range of data communication - all tying into the comprehensive financial understanding of the agribusiness. Just some of the areas where our growers see concordant data sets with APIs include:
Sustainability tracking

Carbon calculations

Labor tracking

Financial management 

Management metrics and reporting

Weather recordings and implications 
Farm businesses need clear communication among all internal business managers with tools to connect their data and show metrics. They need the full picture delivered with APIs.
Conservis API suites offer multiple solution sets
To drive connectivity solutions and support vertical integration, Conservis has API suites that tailor services to clients' individual needs. 
We work with existing Enterprise Resource Planning (ERP) systems like NetSuite® and Microsoft Dynamics, as well as leading accounting platforms and firms, to capture on-farm data and connect otherwise siloed data sets.
Accounting APIs

- managing the flow of costs and revenue throughout the farm

Field collection APIs

- utilizing tools such as irrigation systems

Reporting and analytics APIs

- moving the data so all stakeholders can access and make management decisions 
APIs deliver data with security and reliability
Disconnected silos of data steal time from agribusinesses. It requires significant human hours to disperse information where it needs to be, in forms that make sense and empower decisions. Conservis APIs give time back to the operation. Growers get connected data sets, from an evolving technology stack, through user-friendly dashboards.
With Conservis, you own your own data behind these dashboards. Only you get to decide who has access and who gets reports. We don't care who you buy your seed from or which equipment you drive. Our Data Transparency certification is just one more step we take to earn your trust. Your data - your decisions.
A vertically integrated farm operation requires connectivity that only robust APIs can provide, and only Conservis provides the level of API suites and custom solutions while serving as the central gear in the farm hub.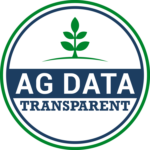 Explore farm operation connectivity
Ready to learn how Conservis collaborates with agriculture operations to develop results for connectivity?