What are the foundations central to your farm? Family, fields and equipment might come to mind. Let's dig - pun intended - a little deeper into the specific tools and their capabilities core to growing a thriving agriculture operation. A digital farm management tool that makes the list must include foundations to maximize profit, make decisions, and streamline your business

Value-driven agtech foundations for agriculture success
We've identified five pillars integral to agtech solutions for helping producers maximize profit, empower decision-making, and streamline the business: Field Records, Costs, Revenues, Budgets, Sustainability.

These key areas of farm management all require one thing — reliable data. A genuinely efficient and effective farm management system takes that data and helps make sense of it, for you the grower, your trusted advisors, landlords, and anyone else vested in the farm.
Let's revisit the foundation of your farm. Each step you take to improve your operations collectively builds a better agricultural business.
Able to track usages of inputs, labor and your equipment?
This empowers you to make improved decisions, avoid mistakes, and save time. Win-win-win.
Effectively managing your costs at field and crop levels?
This real-time knowledge enables you to make profit-driven decisions.
Clearly understanding your crop positions and able to estimate revenues?
You've got the data and reports you need to make marketing decisions and ensure you receive all payments due.
Efficiently able to bring your costs and revenues together into one comprehensive picture?
This is where you get a clear ROI and can track how your farm is performing to the goals you have set. A full picture of whole-farm financials empowers you to grow profits.
Tracking all those key areas such as nitrogen, tillage and water usage for building sustainable practices?
From reacting to customer demands to claiming carbon credits, sustainability metrics are good for the ground - and your operation's future.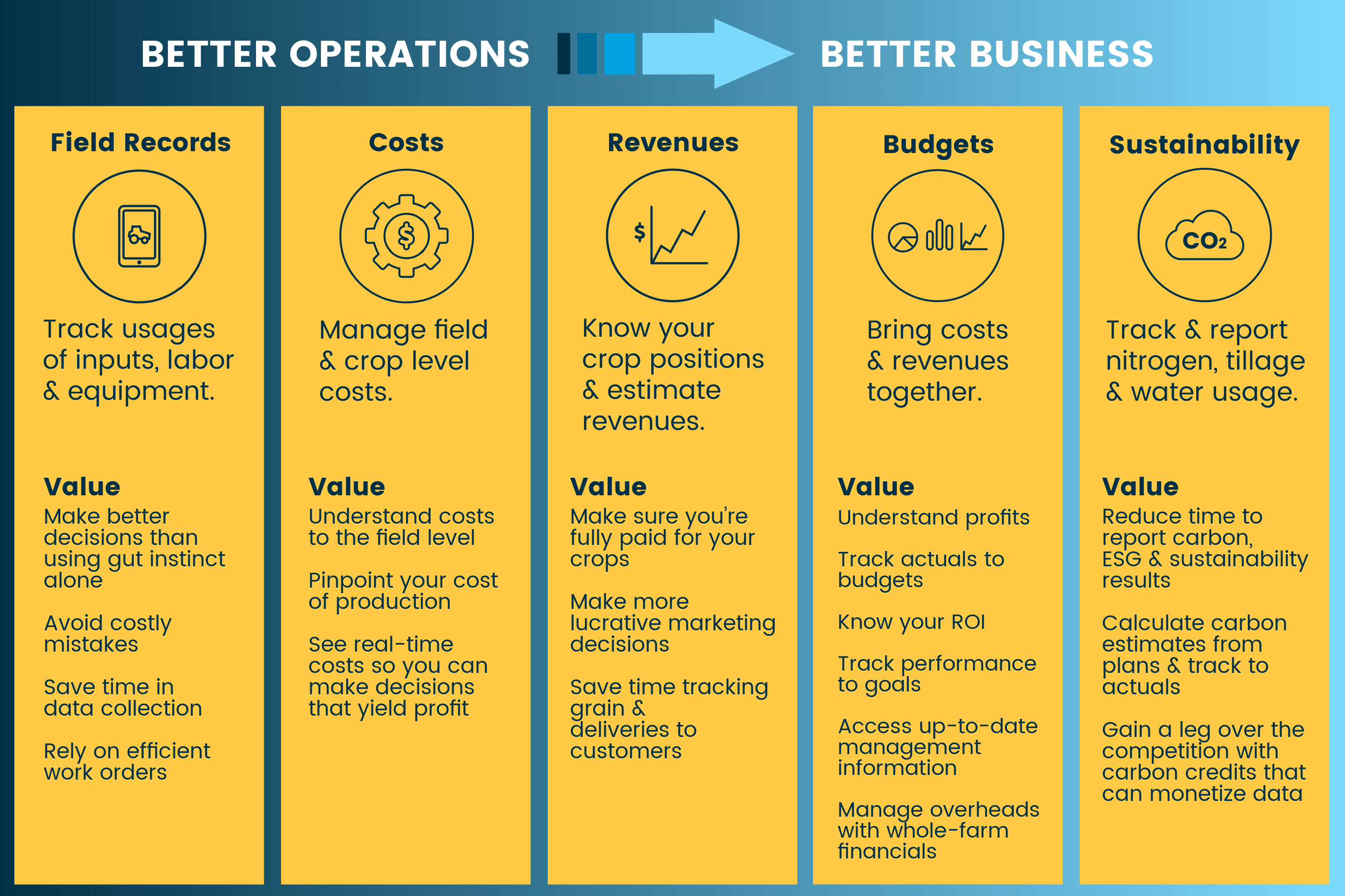 Digital farm management lays the foundation to a strong future
Whether you are growing 3000 acres of corn, managing an orchard, or producing a specialty crop like hops, your farm management system needs to work for you and with you. At Wyman's, one of the largest wild blueberry producers, Agronomist Bruce Hall says they found an "end-to-end solution" with Conservis.
Kevin Byers, Senior Farm Manager for Jasper Wyman and Sons Canada, Inc., agrees. "We looked at a number of different software programs, but we couldn't find any people that were willing to listen and had the ability to make changes on the go, and to really sit down and discuss what our needs were."
The foundation of your farm is no doubt an encompassing collection of people, dedication, and the ground, equipment and tools you rely on every day to make your business grow. A robust farm management system is an asset you wouldn't want to farm without, especially when that system provides a foundation for better operations and profits.
Wondering what we could do for your agriculture operation?