It's an iconic line in country music: 'It's not what you take when you leave this world behind you, but what you leave behind you when you're gone.'"
Remember that one? The farmer, the teacher, and the preacher? It's true—our legacy is one of the most important and meaningful things in our lives. But how the family farm will look in the next generation is not a light topic. It's not easy to consider our demise, and passing the farm to the next generation is becoming more complicated all the time. Not to mention that farming isn't just a business—for most farmers, it's a way of life.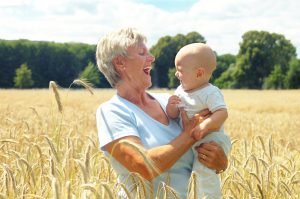 Agrilegacy, a service that helps growers plan for their futures, estimates that around 75% of farmers don't have an adequate plan for the future of their farms. The truth is, the way things will be when you're gone is something you'd probably rather avoid thinking about, especially when there's so much work right in front of you.
It's a heavy topic, one that can linger in the back of folks' minds and keep us up at night. Here are four ways farm management software can help crop growers like you ease the burden and keep the family farm going for generations.
1. Farm management software helps keep the farm profitable.
Farming is sometimes defined as the one industry that buys at retail costs and sells at wholesale costs. It's increasingly difficult for family farms to make money and have security that they'll be able to continue operating into the future. So how do we ensure that a family farm operation has every opportunity to carry on?
Anything that helps a farm continue to stay profitable is key to legacy. A farm management software system can help growers understand their true costs of production so they can keep a close eye on their profit margins. Farmer software also helps growers stay in business in less obvious ways, like presenting better data to take to their bankers and more opportunity to be strategic in their businesses because they're saving time by working efficiently.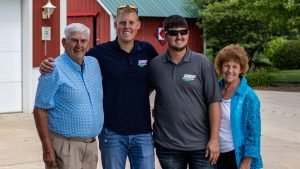 Bates Next Generation Farms is a seventh-generation farming operation in northern Illinois with a clear eye on keeping farming a family tradition. Sue Bates, HR and financial manager at Bates, knows it's imperative to define their farm's cost of production to continue in agriculture. "We're struggling as farmers to make it," said Sue. "If we're going to make it, we need all those numbers." Farm management software has become an integral part of the Bates' strategy, driving planning and budgeting. She references her desire to stay on the farm and loves that her kids want to take over.
Michael Bates wants the next generation to have the same opportunities that he was given. He thinks back on the initial 120 acres that's grown to 3000 acres. "I can only imagine what my kids are going to take it to from the 3000 acre farm that it is today. It's going to be a wonderful thing, and something that I'm really looking forward to." (Read the Bates Next Generation Farms case study here.)
Making sure you have a successful farm to pass on is the most obvious priority, and good farm management software will empower you to make decisions that will help keep you in business.
"I can only imagine what my kids are going to take it to. It's going to be a wonderful thing, and something that I'm really looking forward to."
2. Farm management software houses important farm data and information.
One of the biggest benefits of farm management software when it comes to passing on the family farm is the storage of information. With farm data management software, knowledge and information is physically attainable—by anyone, anytime—in one cloud-based system. There's instant access to years of data.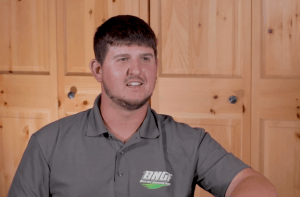 Michael Bates gives his perspective: "I'm sure as with most family farm operations, the information has always been just in dad and grandpa's head," he said. "It hasn't been down on paper or on a computer platform where everybody has access to it." As Michael took over more of the operations on the farm, he found he kept having to go directly to his father or grandfather to access information, hardly what you'd call efficient or straightforward.
With farm management software, important historical data is retained within the cloud, not lost as time passes and conversations aren't had. There's enough to talk about when it comes to family legacy—and much of it can be complicated and emotional. When you have a farm management software system, practical information and data-driven insights are accessible anytime in the system, giving you time to focus on other issues that can come along with retirement.
Michael is looking forward to one day seeing his heirs take over the family farm, and he realizes that having a system to house their farm's information will be especially valuable as time continues. He knows this historical recordkeeping is setting future generations up for success.
Third-generation farmer Scott Weins is also in the process of handing off his Nebraska family farm to his two sons and nephew. He credited his farm managment software as a great help in this process. "That's one of the things that I really think is going to be important for us," he said. "It'll help my brother and I to be able to hand off the recordkeeping, bookkeeping, all of that to our kids."
3. Farm management software eases your mind about the future.
It's uncomfortable to acknowledge we don't be around forever, but having a plan for the future brings peace in the present. Weins noted that handing over the family business to the next generation is something he feels both excited and anxious about.
When asked what aspects of his farm management software system he appreciates most, peace about the future is what he focused on. "Anything that helps me to hand off this operation to my heirs, I can say that's a favorite part," he said. "It makes my life easier because that's one aspect of our operation that I can go to bed at night and sleep well, without staying awake wondering how my kids are going to take care of all this."
He views his farm management software as a tool that's helping him hand off the baton. "That is the goal for us and one of the reasons we have subscribed to the services offered by Conservis," said Scott.
"I can go to bed at night and sleep well, without staying awake wondering how my kids are going to take care of all this."
4. Farm management software helps preserve the farming way of life.
The world is changing rapidly, and farms, like everything else, have to adapt. As farming grows more complicated, it becomes time-consuming to make sure all the ducks are in a row. For the farming way of life to be sustainable, growers have to be able to manage increasingly large and complex farms without working themselves into the ground.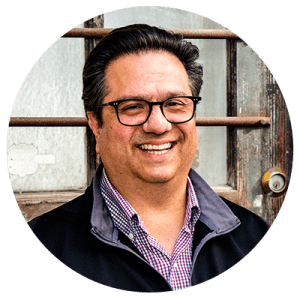 "Managers of expanding farms are fatigued by using six different spreadsheets," says Conservis founder Patrick Christie. "They want a better system, and they recognize they can't do it the way they used to. They're looking for a path to the future."
A farm management software system helps growers streamline their operations. Farmers gain control over the massive amounts of data and the many variables, so there's less stress and more time to enjoy their lives.
Scott's son Andrew discusses how their farm management software system has helped preserve their way of life: "Conservis has definitely freed up more personal time to hunt and fish, and just dedicating time to the farm," he said. "You know we really do live this lifestyle. It's what we're all here for and hopefully it's something that our future generations will want to do too."
"I think that's the main focus, just building this operation into something that's sustainable for future generations."
Scott sees value in his farm management software beyond managing profit margins. It's helping him live the kind of life he wants to live. "Whether it's power, or free time, or whether it's one step closer to retirement, it is helping me to accomplish what I want to accomplish," he said.
There's nothing like knowing that the meaningful business you've built can move successfully into the hands of the next generation. You can rest knowing that you'll leave a steady and powerful legacy. Like Randy Travis said, "It's what we leave behind us when we go."
Conservis is the leading independent farm management software company. We can help you preserve your business and way of life for future generations.