Established in 1886, Ritter Agribusiness is deeply rooted in history. They own the same farm ground today that was purchased over 130 years ago. Driving through town leaves no question that the company plays a large role in the community.

With offices situated in Marked Tree, AR, the farm management company leases ground to approximately 18 tenants on a crop share basis. They own over 20,000 acres and manage 38,000 acres. Ritter farm managers help Mississippi River Delta farmers, landowners and business owners boost the profitability of their operations. Total crop acres, crop rotation, and yield are extremely important to Ritter Agribusiness.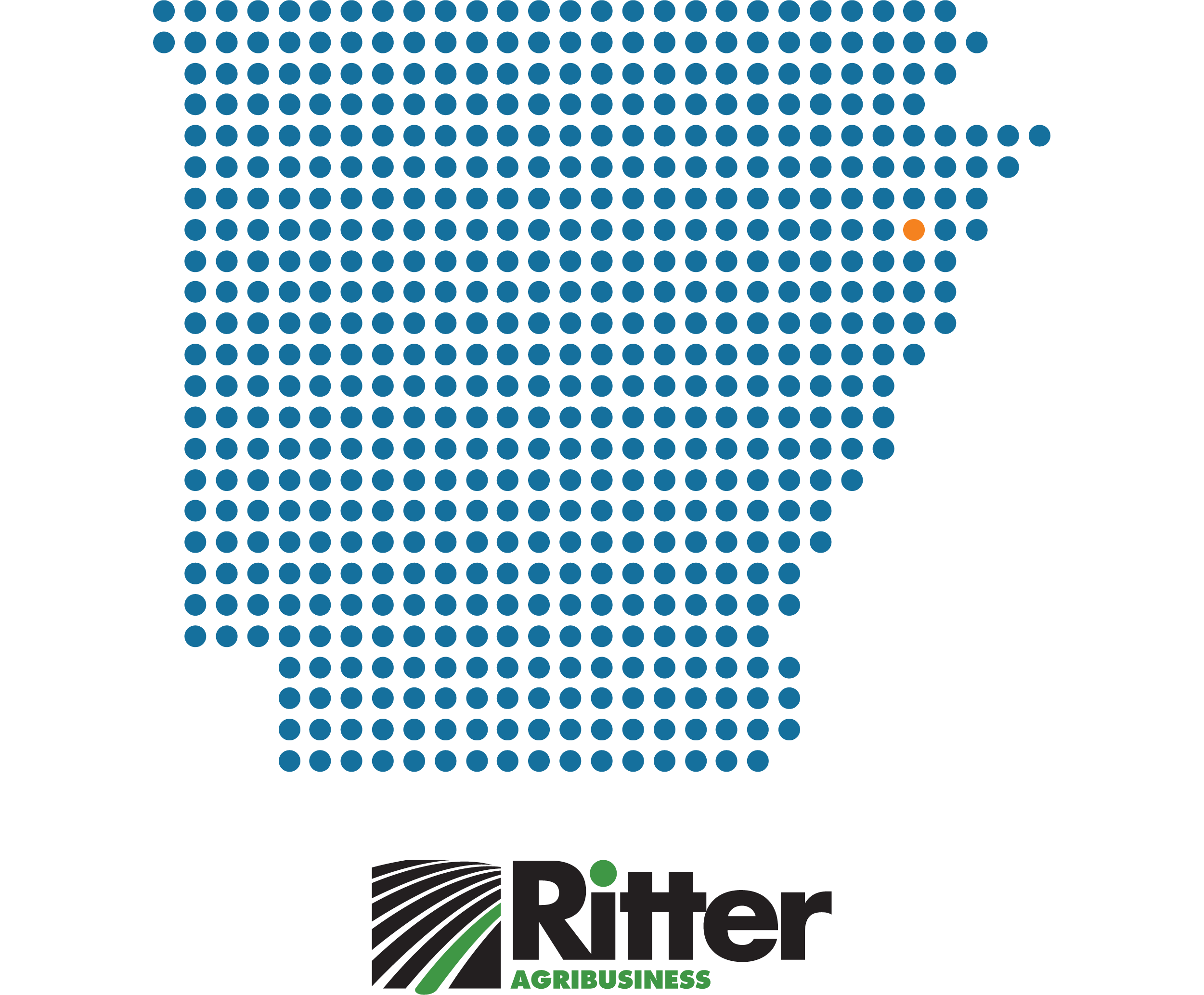 Ritter Agribusiness

Headquarters: Marked Tree, AR

Crops Grown: Beans, Rice, Cotton,
Corn, Milo & Wheat

acres planted across two states
year they started using Conservis
Access to Historical Data
Years ago, the Ritter team leveraged spreadsheets to oversee their business, but crop rotation was very difficult to manage. Executive Assistant, Marion Bearden, recalls the endless amounts of spreadsheets and FSA info that she needed to assemble for their board of directors.

Since Ritter farm managers oversee so much acreage for land owners, they wanted to generate reports for their customers quickly and easily. They also desired quick access to records backed by reliable data. Gathering and storing crop and input data for nearly 20 landowners spread over 38,000 acres was a challenge that required time and energy. Spreadsheets weren't efficient, so they looked to Conservis farm management software for the solution.
Time-Saving, Customizable Reports
Easy Access to Accurate Data
User-Friendly Farm Management Software
Farm-Smart, Accessible Customer Service
Time-Saving, Customizable Reports
"Conservis provides the ability to produce concise reports that we can give to our clients that show acreage, yield, etcetera," stated General Manager, Jason Brewer. "All these are so much more efficient, and there's less chance for human error over utilizing multiple spreadsheets." Jason's life is easier because he utilizes the mobile app functions to produce repeatable history reports for management.

Marion spoke of a recent experience when she was approached by the President of Ritter Agribusiness, who requested specific information for an upcoming board meeting. She mentioned of the incredible turnaround time of generating that report. "It was so easy, I went in, clicked a button and ran a report," said Marion. "Two minutes later I gave him what he was looking for." Prior to Conservis, it would have taken Marion at least 30 minutes or more to gather this information each time a report was requested.
"It was so easy, I went in, clicked a button and ran a report. Two minutes later I gave him what he was looking for and he was like, 'whew that's fast.' The ability to pull the info just by a few touches has greatly improved my life."
Marion uses the yield reports because at the beginning of each new year, the Ritter team conducts meetings with each tenant. Having the ability to go in and quickly check yields comforts Marion. She used to have to go from settlement sheet to settlement sheet; and with differing rent structures, things were complicated. Ritter Agribusiness might have a 75/25 split, a 70/30 split, or cash rent. With Conservis, she doesn't have to worry about splits being off when looking at grain settlements. "You feel confident that once that information is in there and you pull the yield information report, it's going to be correct," said Marion.
Easy Access to Accurate Data
Marion is tasked with setting up each farm and field, and because they have thousands of fields, it's a big job. "Once you get it set up in Conservis, the nice thing about it is that it's so easy to change that information if you get another tenant. It's easy to go in update the information, rather than having to go in and set up the whole farm and field section again. It's been very beneficial to me to have that capability, as well as the ability to sort the information so many different ways."
Marion enjoys the fact that Conservis lets them roll over prior years' FSA information, allowing their field workers to start planting immediately. "Then we just update what we need to when we get the information from FSA," Marion said. "The ability to have the information roll over from year to year, and then we can make our minor tweaks is very beneficial."

The ability to upload electronic delivery receipts has empowered the Ritter team to find errors in grain deliveries much faster, and correct them at the elevator.
Ritter farm managers are more confident in the Conservis information compared to their old method of spreadsheets, as there's now one source of truth as opposed to an array of spreadsheets that were more prone to human error.
"Conservis allows us to see a three-year crop history on one screen for each field. This makes it very easy to ensure our growers are maintaining the desired crop rotations."
Marion shared how hectic harvest season is around the office. While she pays close attention to the information that's coming in from the elevator, errors do occur, and loads have been caught. Since the team manages multiple landlords and various land splits, things are complex. "Even Bo (Conservis Customer Success team) has called me and said, 'Is this the right split?'," says Marion. Having a customer service team who knows their business and is keeping an eye out for errors on their behalf, brings comfort.
Jason enjoys the ability to see several years' crop history on a single field, as it ensures their farmers maintain the desired crop rotations. Tracking crop mix is another chore. Luckily, Conservis simplifies this as customers can click on fields to instantly see what's planted, even when standing in the field.
User-Friendly Farm Management Software
The easy-to-use software has greatly benefitted Ritter farm managers. When Marion first learned they were going to adopt Conservis, she was concerned. Having used software that was difficult to learn in the past, she wondered if she'd ever manage to cope. Fortunately, the outcome was positive because Marion loves that it's not over her head and has made her job easier. "It put my mind at ease when the Conservis crew came down and showed us how to use it, I was amazed at how easy to use it was," she stated. Marion estimates that over the busy harvest season, when pulling bushels from settlement sheets as received, Conservis saves her a week's worth of work. "The amount of time that Conservis saves me has really changed my life tremendously," Marion said.
Jason has confidence that if you input the correct data at planting, Conservis sets you up for success. Electronic delivery receipts give Ritter Agribusiness the ability to get harvest delivery data without getting tickets from their farmers' trucks, eliminating the need for manual uploads. Jason likes the app functions that allow him to do more from his truck. "The ability to pull up our percent planted is huge when I'm talking to upper management," he confided.
"It has helped me with multi-tasking and I would say that the amount of time it saves me has really changed my life tremendously."
"It's invaluable to have the phone and iPad in the field with you and update your system on-the-go," Portfolio Manager, Trey Hayden said. "It's a lot easier and a huge time saver. Otherwise, you're having to take notes and bring that back to the office."
Farm-Smart, Accessible Customer Service
Ritter Agribusiness finds the Conservis Customer Success team to be very responsive, accessible and extremely helpful. When asked how Jason felt about the customer success team's support, he responded, "Awesome, excellent, outstanding, need I say more?" They clearly understand that there's no place for a taillight warranty and customer success is available 365 days per year.

Both Marion and Trey echo Jason's enthusiasm. Marion says, "No matter what I come up against, if I have a problem or I'm wanting the platform to do something for me, I can always pick the phone up. The support that you get from Bo (Conservis Customer Success team) and the rest of the team is amazing!"
"No matter what I come up against, if I have a problem or I'm wanting the platform to do something for me, I can always pick the phone up. The support that you get from the team is amazing!"
Is Conservis right for you?
---
Let's start with a conversation.