Aaron Lee, General Manager of Cornerstone Family Farms has been farming all his life. Both he and his wife are fifth-generation farmers that grow corn and soybeans in the Washington and Clark counties of Southern Indiana. "We've been very blessed to have a good operation, good family and employees that work with us. We're thankful for what we have here and what we're able to do," said Aaron.

He takes pride in his responsibility to use environmentally sound practices. Inspired by his five children and their futures, he's committed to preserving and protecting the land that he farms. For 10 years, Cornerstone Family Farms has been environmentally certified through an annual audit that examines erosion, soil and water quality, and wildlife and conservation practices.

Thinking back on the recent shift in farming technology, Aaron said, "I farmed with my father for 20 years and was able to even farm with my grandfather for a few years." Aaron's grandfather harvested corn manually by ear into a wagon and it's fascinating to consider how far we've come in terms of farm technology. "We've been doing this a long time and it's just amazing how much it's changed."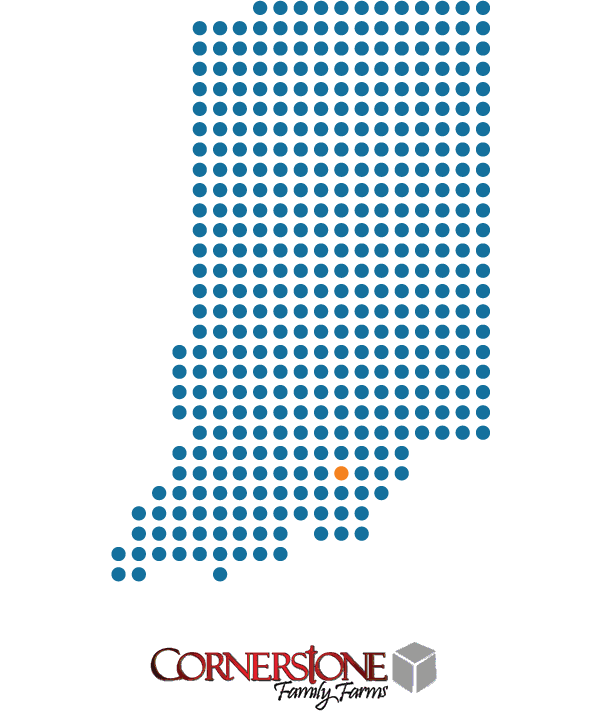 Cornerstone Family Farms

Headquarters: Salem, IN

Crops Grown: Corn & Soybeans
generations as a family farm
years of environmental and safety certification
year they started using Conservis
Defining What Makes Money
Tracking Grain & Input Inventories
"One of the things that we've struggled with for a long time is tracking and knowing what actually makes us money," said Aaron. "As we grew, we saw ourselves being able to produce a lot more efficiently, but we weren't doing it nearly as precisely as we needed to."

Aaron spent years searching for technology that would provide useful, actionable data. He tried another farm management system, but didn't find it suited his needs. "It was neat to be able to see the data, but we weren't able to utilize the data," Aaron said. He craved a solution that would bring to light insights that were actionable. It was this drive and his affiliation with the Family Farms Group that led him to Conservis. "As technology has improved and different companies are communicating better together, it's allowed us to really dig in and see where our advantages are and what might provide a return on investment."
Actionable, Profit-Driven Insight
Aaron is a business-minded leader with significant family values. "Knowledge and wisdom play very closely together," he said. "You can have all the knowledge in the world, but if you don't know how to put that into practice, it doesn't do you any good. Conservis allows us to take our knowledge and put that into practice. We can use it in a way that makes us money and gives us a competitive advantage."
As an environmental steward, Aaron is very aware of the practices he uses on farm. Conservis' Zone Economics excites him a great deal, because it provides valuable data that will lead to actionable outcomes for years to come. "I don't want to be spraying an ounce more nitrogen on my fields than what I need to be," Aaron said. "Whatever input that might be, it needs to stay in the jug unless it's needed in the field. That's being a good environmental steward. Zone Economics, I think, will allow us to drill down on that even more and see where the money is best spent and where we're wasting money and chemicals and nutrients in the farm."
"Conservis enables us to take care of each acre and do the best that we can on those acres, which will make us more efficient from a cost standpoint, but also make us more productive per acre on the crops that we're growing."
"We're able to look at each individual acre and pull up a field and see different areas of the field and what are our productivity is," Aaron said. "We can also compare that to our cost." Aaron loves that he can see where he's throwing money away and what's turning a profit. "To see that at the end of the season and tie all these different data points together to look at dollars per acre in an individual area on a field is phenomenal."
In 2015, Cornerstone Family Farms left Conservis to work with different farm management system. At the time, Aaron was partnered with a different farm and they felt the competitor's platform was better. Initially, Aaron had a good experience, but soon discovered that as plans changed throughout the season, Conservis' competitor wasn't flexible enough to handle Cornerstone's changing needs. "It was very difficult with that platform to be able to change it without going through a tremendous amount of back office work." The software simply wasn't designed with the everyday changes that consistently occur on farm. Painfully, he learned it was almost easier to create a new plan from scratch, rather than attempting to adapt the technology mid-season.
"In 2017, we came back to Conservis and found it was amazing how much Conservis had changed their entire platform in that amount of time. The efficiency and flexibility within the system to not only keep things accurate, but to maneuver within as crop conditions changed was so much better!"

"We've really enjoyed this piece of Conservis because things change every day. We are able to keep our data accurate as we move, change and switch from corn to soybeans or a specialty crop or whatever opportunities might come our way. We're able to keep our data up-to-date with the speed at which we're moving."
Having one software suite that ties all their data together allows Cornerstone Family Farms to see where their fields stand. This real-time data is accessed through their tablets or smartphones and empowers informed decision-making.

Cornerstone Family Farms returned to Conservis because they feel the system is easier to use. "It was much more user friendly, and it allowed us to work within our operation more smoothly and seamlessly." Once all the data is entered into the system, the software sets farms up for success. "It makes life so much simpler because at the push of a button, literally, you can pull information that used to take several hours to pull out," Aaron stated.
Software Grounded in Farmer Input
Cornerstone Family Farms has seen Conservis grow since the initial founding in 2009. Aaron recalls being a beta tester for the early platform. "The company came to us and said, how can we help you? We were actually able to sit down with Conservis and say, this is what we need," Aaron stated.

Aaron's sister-in-law and Financial Specialist, Kim Brown, appreciates that when she asks Conservis about something, the company wants to know more about why she requests the information. Kim believes that if something is important to her, it's important to Conservis. "Our experience is kind of shaping the way they're making the product and that is really cool to see," stated Kim.

"Conservis was started from the very beginning with farmer input. We were learning what we even needed, because we knew we needed something, but we weren't sure what that was. Conservis wanted to provide an insightful platform to farmers, so we worked together to build that."
"Conservis has changed as much as our farms have changed in the last 10 years, or maybe even more from the standpoint of what they're able to offer," said Aaron. "Through our relationship with Conservis, we have things now that we didn't even know we needed then. That makes you hungry for more." That initial founding story is as clear today as ever. "Even 10 years later, I still experience that with the company. They're constantly in conversation with us about what we can add to the system to make your operation better. It's great to be able to watch it mold as you're going through day-to-day life and see changes happen. And it's been that way since the very beginning."
Cost Control & Inventory Visibility
Cornerstone Family Farms enjoys using Conservis to control and manage their inventory levels in real-time. "Things move so quickly in and out, both in the spring with our input inventories, but then certainly in the fall as things are coming in and going out," said Aaron. "There are times when we're harvesting and bringing to the bin and then we're also selling and taking to the end user. Being able to stay on top of that has gone far beyond what you can keep track of in a notebook in your front pocket."
"It's live action, it's right there. We can pull the report instantly and know where we are on our production or inventories."
Aaron relies on Conservis to electronically track inventories and ensure that deliveries, contracts and settlements are accurately recorded and paid for. "In the spring, it's nice to know with machine integration, how much we're planting. I can pull up my iPad and see how many units of a seed that I have or how many gallons or ounces of a certain chemical." Aaron discusses the turnaround time that it can take to get new inputs ordered. "If we're running low on something, I can go back and order something without the lag time of waiting on chemical to come in." His sister-in-law Kim likes the enhanced field visibility. "The machine integration piece has been interesting because I'm in the office, but it's given me the chance to see what's going on out in the field," Kim said.

Aaron sees value in showing his field workers what things cost. Precision is very important to him and he recognizes that one little mistake can cost thousands of dollars. This makes grain tracking through Conservis another win. "There are times that we've missed a load of corn and we can go back and find it," said Aaron. "We do a lot of shipping to distilleries, so there are truck drivers that take our grain that we don't know. They're all great guys, but it's just another layer of vulnerability." Aaron appreciates that Conservis tracks each grain load, whether it's hauled by a Cornerstone truck or a hired hauler. He's grateful his farm management system stores the exact date and time each truck went out.
Phenomenal Customer Success
"Our experience with the customer success team at Conservis has been phenomenal," Aaron stated. "We're dealing with people that we have relationships with, we know their kids and their families, and they know ours. I remember when we first started with Conservis, we were learning the program, and I'll never forget I got a call from the success team and there was a lady that I had a great relationship with and she said, 'Aaron, stop right now what you're doing because you're screwing everything up.' And I love that because I needed that. I need someone that actually cares about what we're doing. So, we stopped and fixed it and it took about five minutes. From there on we were doing what we needed to be doing to properly track our data. It's a friendship, it's very personal."
"When we call, we speak to someone, there's very little lag time, said Aaron. "I think it's incredible, in fact, that we have as good of service as what we do, because we live in a world where we don't even expect that anymore."
"My experience with Conservis' Customer Success team has been great...One of the things I love is whenever I approach them with a question or a concern, they always help me and then it turns into a conversation. They ask me, 'Well why, tell me what you're doing.' They want to understand what we're doing so that if something needs to be changed or improved upon, they know how we operate so that they can, in turn, change their processes to better suit our needs."
There's great value in fast, accurate data when it comes to crop insurance claims. "In a challenging spring (2019) where we had replant and we changed crops, we were able to have data very quickly that we could give to our crop insurance agent." Aaron had a visit from his crop insurance adjuster. He appreciates that they can instantly see planting dates through Conservis which he readily shared with them. "It's even beyond what they expect us to have. We can go into more detail and drill down," Aaron said. "One of the things that they need as we work through the claim is seed cost… and all the information of what your costs were."
"Conservis helps crop adjusters understand the big picture better, so they know how to work with us to get the best end that we can from a crop insurance perspective. So, it's very good, being able to easily share that with the people that I work with within crop insurance has been really great for us."
Before Conservis, it took Aaron 1-2 full days of time spent in the office digging through maps, getting correct dates and completing input data. Aaron said that with Conservis, so long as you have the correct information in the system, this can be done simply and within minutes. "Now, at the touch of a button, we can show them what we have in this acre," Aaron said. "It helps them understand where we are and what our costs are in that acre."
Is Conservis right for you?
---
Let's start with a conversation.