This past May we rolled out our Zone Economics platform for Conservis users. It's something we've been crafting and developing for years, thanks to constant feedback and guidance from growers like you.
This growing season was a challenge for many, and it's not easy to introduce a new product when you have very pressing and real concerns to attend to (like whether or not you can get seeds into the ground).
The irony is that Zone Economics is made for times like these, years where you need to be extra critical about the money you're spending. The system was created to help you better understand if your money is paying off (or not). The platform helps you determine the ROI in your field practices, down to the square yard.
With Zone Economics, you can answer questions like:
What was my most efficient seeding rate?

Did that seed variety give me the economic return (not yield) I was expecting?

What was my most economically optimal rate of applying fertilizer?

Are there areas where I'm applying too much or too little to get the return I want?

How do I start to understand and limit losses in this field? Are there areas that just don't produce?

Am I paying too high of cash rent which caps my earning potential for a field?

Are there areas within my fields where I can intensify production to achieve greater financial return?
Why the term "Zone Economics"?
Zone Economics is a phrase the Conservis team landed on after many conversations with growers. "Zone" comes out of management zones, a concept you're certainly familiar with as you strive to maximize efforts and work with intention around the variability in your fields.
When discussing management zones, the conversation often revolves around yield: what areas of the field are high producers, and what ones are low? While this is a good place to start, there's next-level analysis where "economics" comes into play.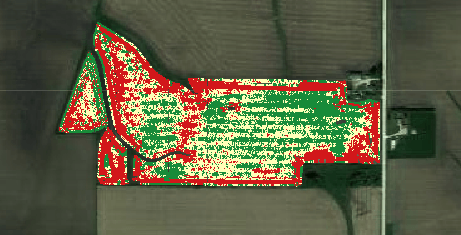 For most of farming history, the way to determine the success of harvest or a crop was through yield. But reality isn't that simple. The new measure of a field's success is economic: what did you put in, and what did you get out? It's understanding the return on your investment in your fields. It's a shift away from thinking about agronomic performance and toward thinking about the economic future of your farm.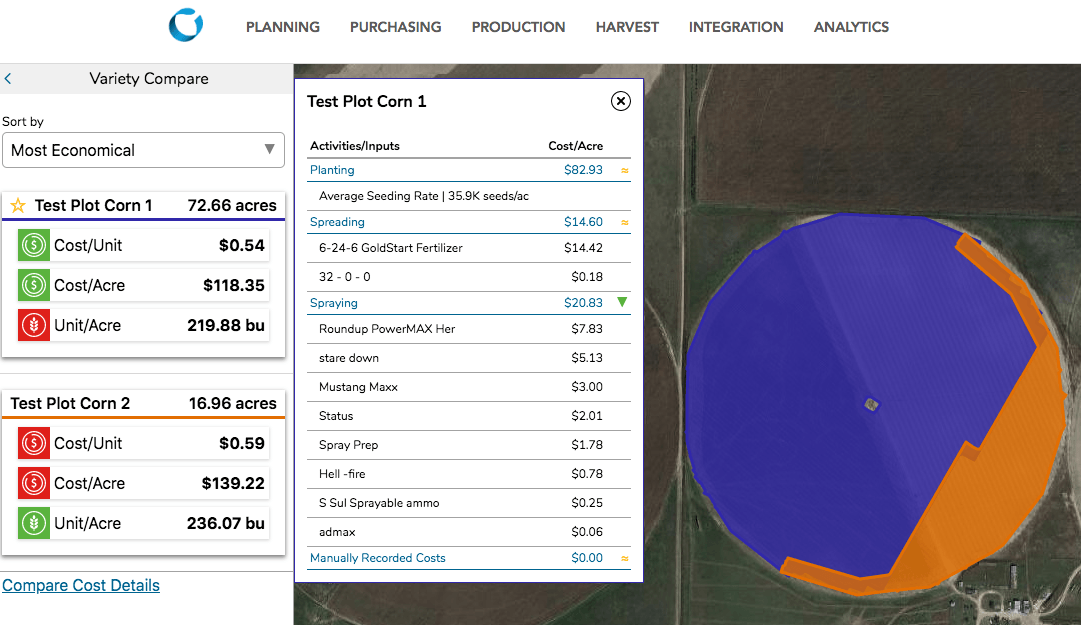 "We've introduced a product where the focus is less on yield and more on your bottom line," said Matt Backer, Senior Product Manager at Conservis. "There's a very real difference between an agronomic plan, which focuses on maximizing yield, and a precision business plan, which focuses on maximizing return."
"We've had people saying they've been waiting for this kind of functionality for 20 years. You always see your yield, so you kind of know what your revenues are, but in today's margin crunch, knowing what recipes work and where the profits really come from is very important."
The Conservis differences
We aren't the first to offer this type of technology to growers, but our system has some distinct differences. We worked very hard to develop this for our growers, and their input has helped us craft a tool that brings the most value possible.
We're extremely proud to share the following about Conservis Zone Economics:
Capable of incorporating comprehensive information. There are most costs in your operation than field-applied inputs, like rent, insurance, labor, and equipment depreciation. Our system has a comprehensive cost calculator that directly feeds into Zone Economics, allowing you to input many different types of costs. We paint a clear picture of field-applied costs, with the addition of other organizational costs. This provides you a holistic picture of the economic impact of your operations at a field level.
Uses growers' actual costs. Zone Economics at Conservis uses real grower data. That means the inputs in the system are your operation's specific costs, not industry averages or third party databases. This is a huge differentiator from other tools out there. Conservis Zone Economics marries your data coming in from tools like Climate Fieldview™ or John Deere Operations Center to your inputs and their associated costs within Conservis. This provides you the most accurate insights into how and where your money is being spent within your fields.
The ability to incorporate your own information brings the value of Zone Economics to a new level. You can make decisions more confidently when you're looking at your numbers and your numbers only.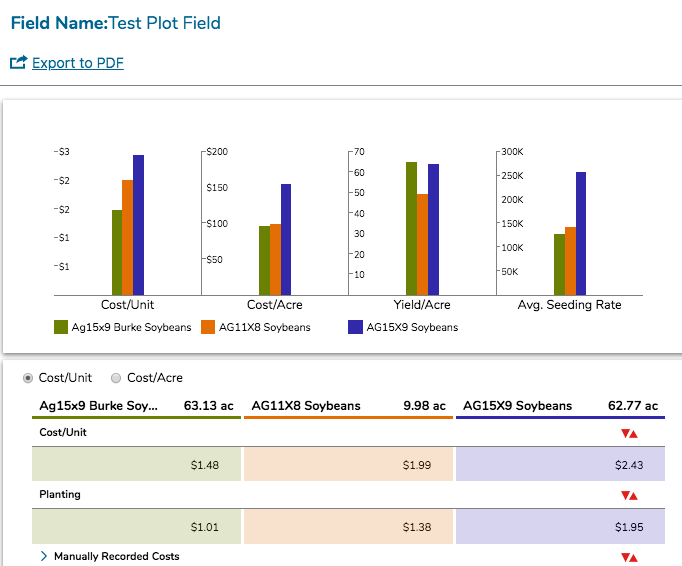 Well-designed and user-friendly. When you're using technology, or any system that works really well, you can bet it took a lot of behind-the-scenes work. Anything that is easy to use, ironically, has the most hours of work and development behind it.
We know how incredibly valuable your time is. That's why we worked so darn hard to make the visuals in our Zone Economics system as simple as possible, despite the complex information being analyzed.
It took a lot of smart people dedicated to providing value for growers like you to figure out how to build Zone Economics' visual tools. It was no small task to determine how to pull information from many sources, including outside partners, and transform it into something digestible and easy to interpret. We did it—our platform takes complex data and presents it simply for an end user. Excuse our language, but we're damn proud.

"Zone Economics helps growers get the full picture of the outcomes of all their hard work. There will be areas inside a field where they'll see there was a recipe for success, so let's see if it's repeatable either across that field or any other like it. Conversely, they'll see if there's an area that did poorly where it cost them a heck of a lot of money and they didn't get much of a return. That's a recipe for something to never do again."
Data analysis like this is unprecedented. Let's keep learning and improving. This is the future of farming, and we're in it together.

See Conservis zone economics in action