What do farmers have in common with famous physicist Albert Einstein? The bicycle. No, we don't envision that our farmers are checking on crops via a classic Schwinn 10-speed or that they side hustle as physics professors (but if any of you do, please tell us more!).
As Einstein once wrote in a letter to his son, Eduard:

A yearly cycle on a farm, whether it be row crop or permanent crop, is in constant motion. From seed and fertilizing decisions to equipment and ROI analytics, there is something cylindrical about the seasons farmers move through – far beyond the cycle of the calendar. And this motion of the farmer requires balance. It is not just about planting and harvesting. It is about all the spokes on the wheel that provide strength and balance for the entire operation.
Field activities year-round

Harvesting

Crop storage

Settling contracts

Cost and profit analytics broken down by cost, profit and yield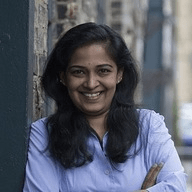 "

We want to be at the hub of the farmer, where we constantly provide them value.

"
Remove these spokes and you reduce the integrity of the wheel. Remove these core and vital pieces of data and it is much more difficult for the farmer to maintain balance and build forward momentum. You can't make sound decisions on partial data.
We understand the pain that farmers experience, and our primal goal is to turn those pains into gains. Whether you are battling paper mountains or struggling to gather data from different people across multiple fields, our solutions remove these challenges.
Missing data from field workers and facing incomplete records?

Understand what was put on the field, where, when, and how much for ROI.

Spinning your wheels and inputting the same data points on too many platforms?

Reduce discrepancies, save time, and have seamless access to consistent data.
Seeing frustrated workers and barriers to production?

Build confidence among your team and a sense of community to improve productivity.
If farming is like riding a bike, then at Conservis we strive to be at the center of the bicycle's wheels. As Aneetha Gopalan, VP of Product and Engineering explains, "We want to be at the hub of the farmer, where we are constantly providing them value."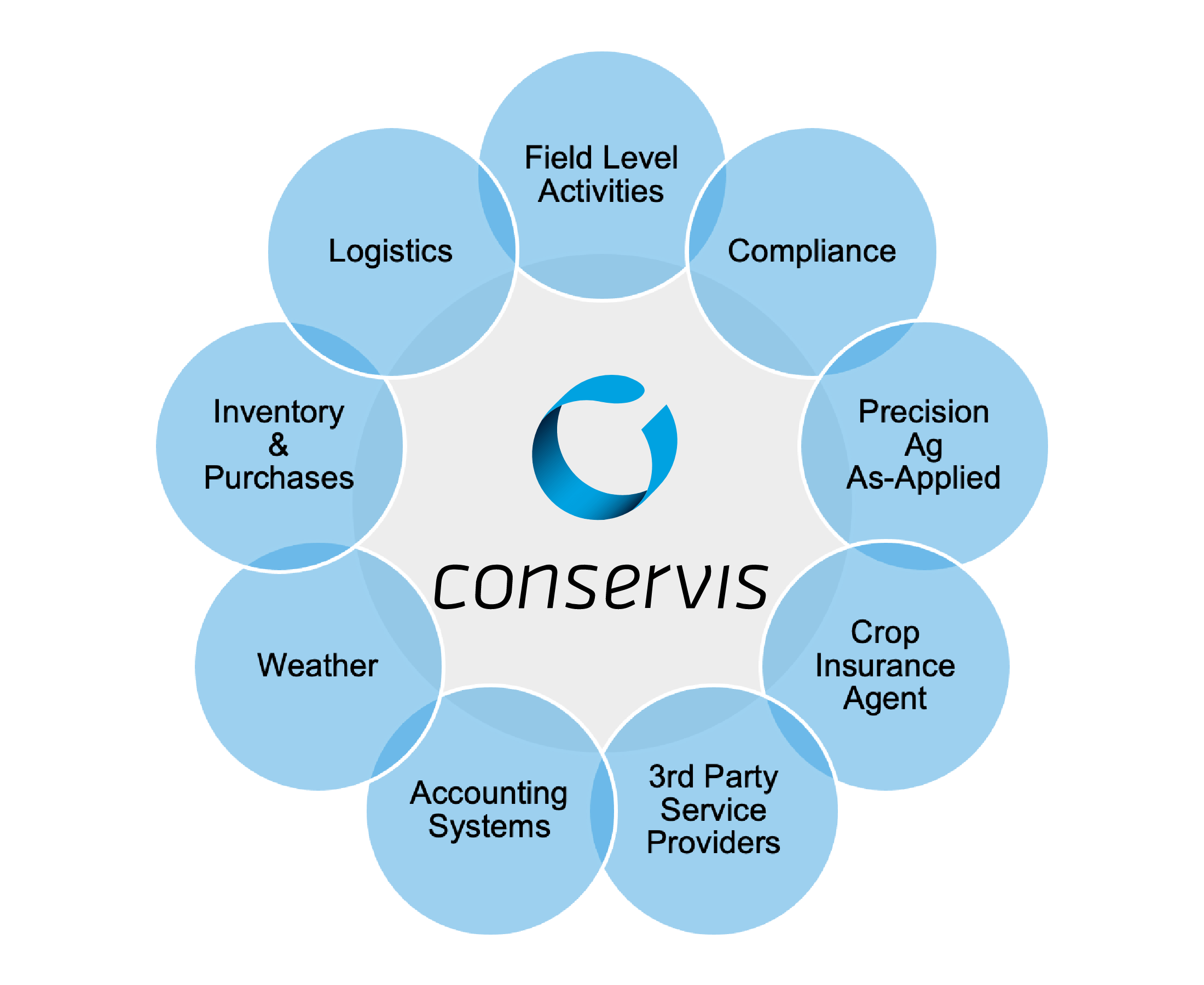 Your Agribusiness Hub - Conservis
This hub, as Aneetha puts it, includes more than just the spokes of data coming from every individual farm. The spokes are also the software integrations, the apps, the intangibles. Whether looking at production or harvest, Conservis partners with and integrates some of the most-used systems by farmers just like you.
"Conservis helps you create a full financial picture of your operation. When you till a field, plant, spray or harvest, all of this can be tracked with the push of a button on their software. Just like tracking field data, you can monitor the financial impact of every field activity. All of this leads to more control over your financial performance and less room for operational gaps. "
This example of collaborative success demonstrates the strength and balance of Conservis, and the benefits for growers. Our Customer Success team is with you every step of the way to support you in your goals. Together we can start small if that is what you prefer, and grow from there. Consider the team as your training wheels, always there to help you keep that balance. One of the best things about our program is you never have to ride solo; we are in it with you for the duration.
Ever take a wobbly bike down a gravel road? Look out for large rocks, potholes, and the errant squirrel that darts in front of you right when you've hit top speed (and have forgotten to secure your shoelaces).
Our goal at Conservis is to make sure that your bike – your vehicle for pursuing your farm operation's goals – is as strong and connected as possible to withstand those inevitable challenges along the way. We can't control that crazy squirrel, but we can help you make sure that your systems, products, and processes are as robust as possible to navigate and withstand the event. You will have the information you need at your fingertips.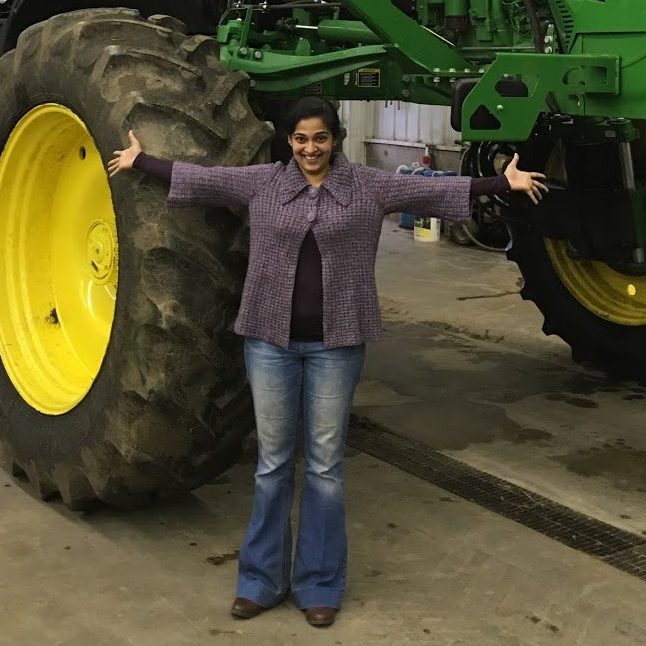 "Conservis is providing our farmers a full farm view of their financials and operations, and providing a near real-time budget to actuals from machines. There is so much unpredictability in a farmer's world. We want to make sure that the things we can help them control, we do well."
Your Information – Your Decisions
One of the most unique and powerful things about Conservis is that our products and services apply uniquely and powerfully to each farm operation we have the honor of supporting.
The data from Climate FieldView™ or John Deere Operations Center, for example, is our starting point. We are able to take the real-time data collected from equipment such as tractors, combines, applicators, and planters and combine that with financial management processes and protocols.
Aneetha notes that "we have tools that do a lot of what ifs where things course-correct."
What if we spend 25% more this year on fertilizer? Important to know.
What if we buy this new tractor? Oh, that is the new margin.
What if the yield increases by 10% this year? Got it.
What if we switch crops on Field 56? A new picture to consider.
What if we help find two missing loads this harvest? Wow. Clear ROI.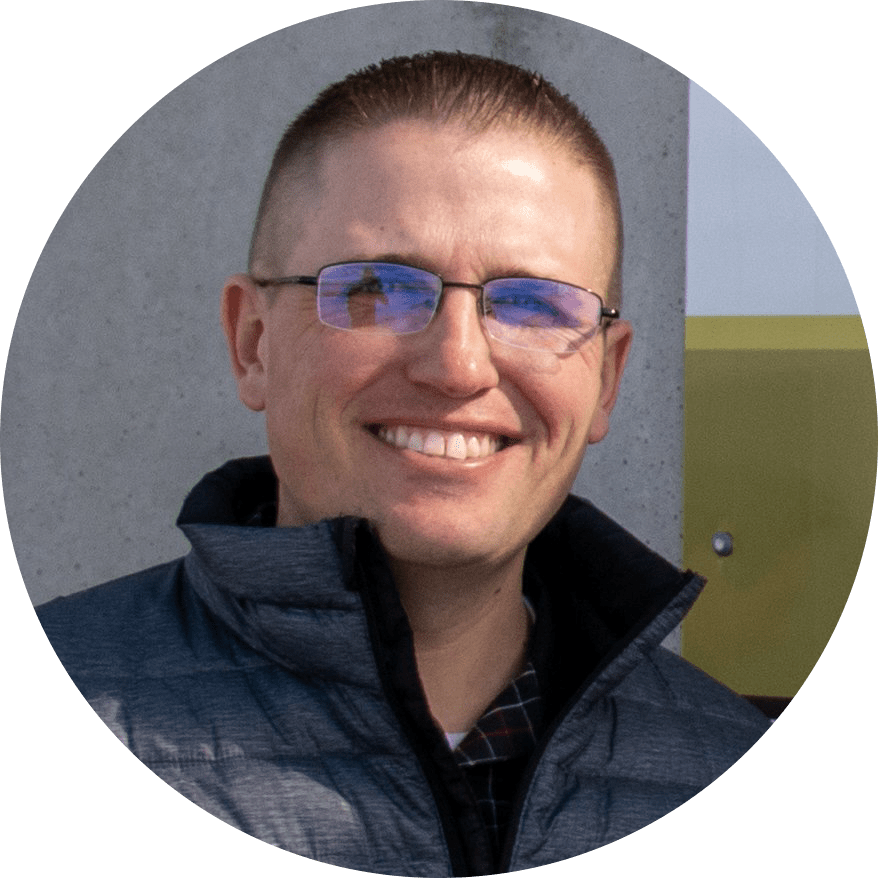 "If something changes as far as a fertilizer cost, I can instantly go in and change a number and see how that affects my bottom line."
The power of partnering gives us the multiplier effect. We are not trying to duplicate or build things that other partners have already succeeded at building and doing. Pun intended; we do not need to reinvent the wheel. We just want to make the wheel stronger and more stable. Part of that stability is protecting your data. The grower always owns the data with Conservis, and is always in charge of who sees what and when.

Conservis works to be that difference. We take raw data and present the financials of each angle, each acre. Our financial focus leverages agronomy to get that perspective. The information we provide farmers is unique to their situation, because it is based on their unique inputs, operations and data sets. Every wheel is unique. Every farmer is important. So put up the kickstand and move forward with balance, confidence, and control with Conservis. And watch out for squirrels.
Conservis is the leading farm management software provider. Curious about what we could do for your operation?