by Pat Christie, President of Conservis
At our core, we are not much different from Rabobank or TELUS Agriculture and this matters. Any company can change what they do or how they do it but recognizing the why behind what we do is fundamental to our success. Since day one, the voice of the farmer has driven our priorities and motivated our problem-solving genes. This will not change.
Every day we accomplish tasks on purpose, but as we grow this business we'll seek passionate people to steer Conservis with purpose.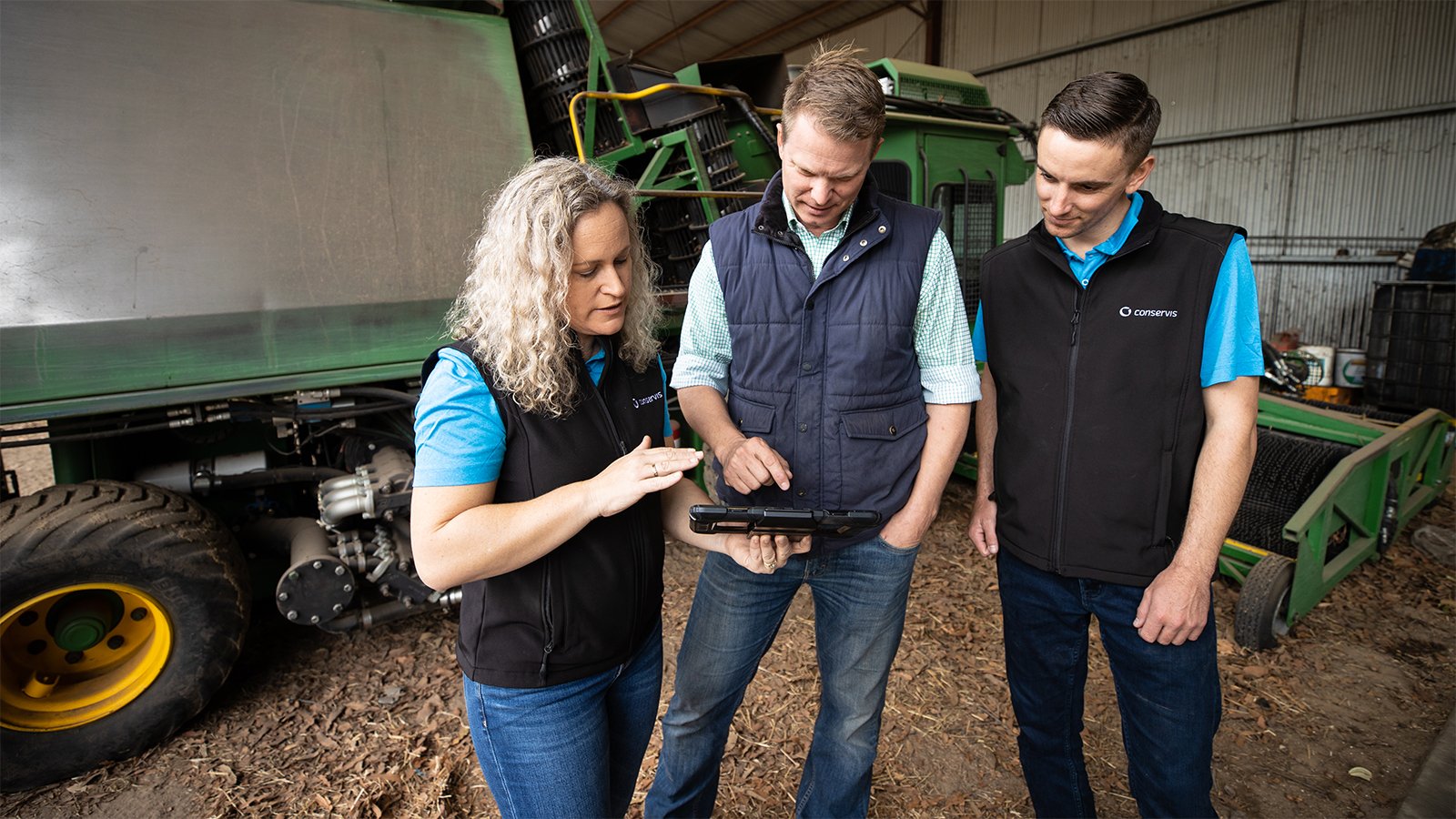 Having worked alongside Rabo AgriFinance in the field for years now, I've witnessed the personalized approach that their team takes with clients. Relationships live at the center of their universe and that's admirable. This coupled with their long-term vision for what the future of farming could look like make us great partners. Here in the Americas, Rabobank is the premier bank to the food and agribusiness industries, and they provide highly customized solutions across the entire food value chain. Founded well over a century ago, they are a powerhouse when it comes to ag lending and client privacy. With Conservis, the grower has immediate access to accurate, real-time data and they have the ability to quickly share this information with the lender of their choice. Previously, this was a challenge for lenders and farmers, and Conservis delivering real-time, complete data with the push of a button (always at the grower's discretion) is just one example of what this journey is all about.
TELUS Agriculture is excellent at leveraging innovative technologies throughout the value chain to inspire better food outcomes for people across the globe. They too are driven by passion, social purpose, and connection. With the worldwide population expected to keep growing comes the need for more food. TELUS Agriculture seeks to sustainably achieve yield increases while protecting the health of humans and the planet. As consumers demand to know more about the origins of their food, the need for traceable food systems too will grow. With Conservis, traceability is inherent because we are a data company that's committed to improving traceability and transparency, while omitting data silos. Food safety is a must have and making this an integral part of the beginning to end process improves outcomes for the whole supply chain.
To better grasp what TELUS Agriculture is striving for, watch Empowering Growth:
We didn't start this company to be about farming. It was built around enterprise sustainability and how can we help people and companies do more with less. You can't improve what you don't measure, and we had this thesis that between the potential for the carbon economy to emerge and the need for companies to drive efficiency by using less water, fuel, and energy, that we could help. The idea centered around sustainability being imperative and technology, we knew, would play a critical role. The founding group came together and one of those individuals was Eric Jackson, a friend who's one of the most brilliant people I've met around the ag supply chain. Eric was asked to panel a discussion at the Soya Tech Conference, and he chose to speak on sustainability in agriculture. He presented the notion that a farmer may have an advantage in the marketplace if they could show full transparency into how their crop was produced.
Of the 600 people in the audience, a group of farmers approached us and said, "We'd like to talk to you. What you're talking about is the thing we're trying to deal with from a legacy perspective. We're trying to figure out how to get access to capital, to grow more sustainably and we think traceability is going to be a market advantage." The farmers showed us the path. We had the confidence to lean in and the determination to take action.
With our eye on sustainability and doing more with less, we landed on 'conserve'.
Next, what would it take to truly serve the grower? We knew that creating software in itself was not the answer. Too many farmers were handed software with a taillight warranty- maybe you've heard of it? Some tech companies talk a good game, but after they've dropped off their product, the support lasts only as long as it takes for the truck's taillights to disappear from sight. We knew that wasn't us, we were dedicated to helping producers for the long haul and we were going to be a reliable partner day in and day out. What mattered wasn't giving the grower another set of tools. It was about listening intently to provide them with the right set of tools and providing unbeatable, accessible support at every step in the journey. We knew this wouldn't be an easy commitment but felt that our success hinged upon the success of the farmer. We may be a Software as a Service (SaaS) company, but the service component is so critical that we built it into our DNA.
Centered around supporting our client's diverse needs, we landed on 'service'.
Conserve + service = Conservis
Conservis is the leading farm management software system for permanent crops and row crops. Are you curious if a farm management system is right for your operation?
---