Until 2014, Wiens Farms was a second-generation family farm run by two brothers, Scott and Shawn Wiens. Growing corn and soybeans in Beatrice, NE, the brothers were introduced to farming by their father 30 years prior.

Elder brother and co-general manager Scott Wiens is part owner of their farm and also runs a seed business while staying close to his sons, keeping him very busy. The two brothers have brought on their collective three boys to the operation over the last several years. The close-knit family enjoys tractor pulling, hunting, fishing, and spending time together on and off the farm.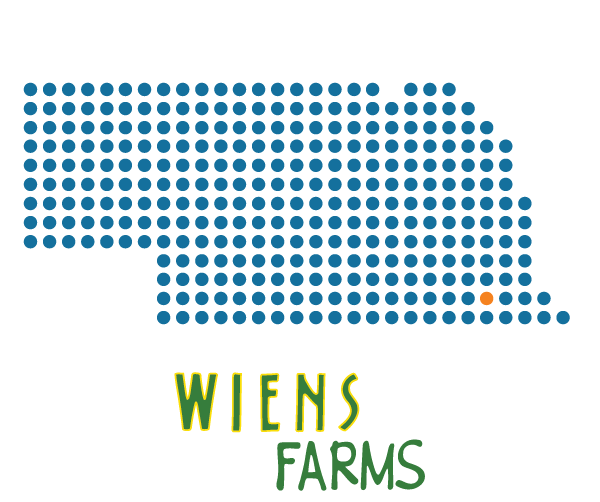 Wiens Farms

Headquarters: Beatrice, NE

Crops Grown: Corn & Soybeans
generations as a family farm
year they started using Conservis
Managing Ownership Splits
As Wiens Farms has grown in size from two to five people, the operation has grown increasingly complicated. Scott thinks back to the pre-Conservis era and his mind floods with stacks of scale tickets and papers. With a calculator in hand and a spreadsheet on the screen, the old manual system used to require days of his undivided attention.

"The volume of money required to sustain a family, it just seems like it's a lot tougher and a lot more of a challenge," Scott said. "One of the reasons we've decided to integrate Conservis within our operation is because of that. There's five of us, there's many landlords. With more acres, more inputs, and more people involved, you need more than that notebook, pencil, and calculator." Scott's brother Shawn used to be responsible for chemical and fertilizer splits, which he calculated the old-fashioned way. "That was the big problem for us, it was a big pain," said Shawn's son Collin. "I can remember my dad in the office just taking days to do splits for landlords and such. That was a big turning point for us."
Scott thinks to the future. "But this fall, we're going to eliminate most all the paper. We're going to actually convert to just relying on Conservis for our fall field records. Now that's harvest, with grain, bushels, and landlords." Scott is anxious, excited, and a little skeptical because he's done it the old-fashioned way for so many years. "In the future, our boys and my nephew aren't going to do things the way I have and that's just a fact."
With the excitement of change comes the hand-off of the business and their livelihood to the next generation of Wiens. "Anything that helps me to hand off this operation to my heirs, I can say that's a favorite part," said Scott. "That's one of the things I really think is going to be important for us. It'll help my brother and I to be able to hand off the recordkeeping, bookkeeping, all of that to our kids."
Automatic Land & Input Ownership Splits
The number one reason that the Wiens adopted Conservis was to handle their complex input and land ownership splits. After the three boys began helping farm the ground, things shifted. Third-generation farmer Andrew Wiens now handles the spraying, planning, and budgeting for prepaid expenses, and the splits for chemical and fertilizer expenses. "As us three got involved, we picked up a boat load of landlords with the ground that we're now farming, plus our three shares of stuff," said Andrew. "The splits are really why we got into Conservis, because it took about a day and a half and a whole notebook full of chicken scratch, and Conservis has been a godsend for helping with that."
All five of the Wiens pre-pay their chemicals in December based on estimated acres. The family typically has more delivered than they anticipate using so they don't run out.
"It [Conservis] took a day and a half project and reduced it to about an hour. That's where I've seen a major benefit."
Their John Deere sprayer then records what gets applied to each field, which flows into Conservis via machine integration. When spraying season is over, they reconcile their inventory with what was actually used. Since no two seasons are the same, changes often take place. "You may have a spring where it rains all the time so you change up your chemical program because you couldn't get things done," Scott said. "In the end, you have what you paid for in advance, and you have what you actually used. The difference between those two has to be split between all our landlords and us, among all of our farms and fields which are many different lease and ownership arrangements. Conservis will do that. That's a time-consuming, pain-staking process for a guy with a pencil, calculator, and spreadsheet."
Prior to Conservis, Scott was used to spending an average of one hour at the end of each day in his office bookkeeping. "I'm one of those guys I have to have the bushels add up before I'll be able to sleep that night and I also have to do it every day. I can't really wait 'til the end of the week and then try to maul through a pile of scale tickets and records." An hour a night adds up quickly, averaging 20 hours per month.

"But Conservis will enable me to do a lot of that while I'm still in the field, or within 10-15 minutes," Scott said. There's a tangible shift that's taking place on Wiens Farms as Scott learns to trust the system. "So that's the goal, that's one of the end games, as well as the fact that the boys will be doing this all on their phones or iPads someday and probably won't worry about scale tickets unless there's a problem."
"It's a little different now since Conservis, because you click a few buttons and basically, what took an hour at the end of the day takes you 5-10 minutes."
Scott is looking forward to the shift that's already begun to occur. "It's definitely made our life easier from the standpoint of our bookkeeping, because we've had to learn to trust the system," said Scott. Shifting from five hours of bookkeeping per week to about one frees up sixteen hours per month on average, allowing the family to focus on other things.

Scott's son Jarrod is working to follow in his father's footsteps. Jarrod knows his path will be easier, as the system frees up roughly four hours every week. "Everything these days seems like it's paperless, so in that aspect it helps things run a little more efficiently," said Jarrod. He appreciates that he won't need to use a calculator to resolve issues. "Discrepancies and stuff like that were always kind of a pain in the butt to figure out. And now with Conservis, you can see those discrepancies. You'll always have a few based on if somebody pushes the wrong button, but you can find it a lot faster and it's a lot easier."
Flexible Software that Fits Your Operation
Scott appreciates that the software allows him to continue farming the way he always has. "Generally, that's been one of the things I've noticed, that they're pretty good about tailoring their program to yours," said Scott. He acknowledges that some processes have shifted with the technology, but generally speaking the software adapts to their farm. "But I've just been impressed with their tech support and their ability to kind of tailor their program to your operation, rather than vice versa."
"There isn't a set, canned approach to anything about it [Conservis]. You really can use it as much or as little as you want."
"Anytime we've said, 'hey, we want to do this,' it seems like we've always been able to get it done," said Scott. "There's never been a time when someone has said 'no you can't do this.' Even though they both may raise corn and beans, no two operations are exactly the same. The flexibility has to be there."
MyJohnDeere Machine Integration
The Wiens have relied on MyJohnDeere for many years, so the ability to integrate with their existing technology is a big win. "My underwear's pretty much green and yellow. We've been John Deere people for as long as I can remember," said Scott. "The MyJohnDeere platform has been one of the better ways to acquire the field data with Conservis. I think those two things work well together."
"I think Conservis has done a really good job of pulling data from different locations and being seamless in that data transfer."
Automatic machine integration makes for one less thing to worry about. "It's been pretty seamless, and it's talked very well with MyJohnDeere," said Andrew. "We use MyJohnDeere to pull our information and it has been fairly seamless which we haven't seen in other platforms."

Having used a different farm management software system, Andrew has experienced the lack of communication between technology companies. He appreciates that Conservis handles machine integration in-house, because he thinks that when companies outsource different parts of a platform, they can get into trouble. The result he saw with his previous farm management company was that different colors of equipment didn't communicate properly and the data wasn't transferring accurately.

When asked about accuracy, Andrew explains the process. "For chemical for instance, you're running that chemical through about three different pumps from the time it reaches the supplier to when you apply it in the field. So there's a little bit of variance," said Andrew. "But you're talking thousands of gallons of RoundUp. It's very minuscule, maybe a 1% error. It's been good and I don't know that there's any way to fix that just because every one of our pumps would have to be perfectly calibrated and every one of our supplier's pumps would have to be perfectly calibrated. But like I said, it's just been a godsend. It's been really close every time, close enough to where I feel comfortable where we can just reconcile it out."
Tremendous Customer Support
The Wiens light up as they talk about their customer experience with Conservis. "The customer support that Conservis offers… I can't even put a rating on it," said Andrew. "It really has been great. We would not be even thinking about using Conservis if it wasn't for that customer service. It's been tremendous."

Andrew greatly appreciates the respect and assistance he gets. He believes that Conservis understands that there's times when they are super busy, so they may need a question answered immediately. "We've tried other companies, but the customer support has really been, truly, the kicker with everything."
"It's been the best customer service that I've ever encountered with any company. I can't put it any simpler than that."
Andrew's father, Scott, agrees wholeheartedly. "One of the things that's been extremely helpful for us is the tech support that Conservis has," said Scott. "We deal with a lot of technology in the farming industry these days and tech support is huge. Being able to call and talk to a person and have them walk you through something… It will continue to make our lives easier. It has already, but with anything there's been challenges because of just the change, getting orientated, and getting all of your inputs entered." Scott admits that bringing on a farm management system requires change within a farm and he's grateful to have felt supported through that process. "I think the people involved in Conservis tech support are top-notch. It's so nice to have people who are patient and understand that we use Conservis maybe a little different than the next guy. The patience level of tech support has been most outstanding, bar none with Conservis. That's important to a guy like me."
Andrew's brother Jarrod agrees. "It doesn't matter who you catch at that Conservis office… their knowledge is unbelievable," said Jarrod. "If they don't know the answer, they'll find it in a matter of five minutes."
Grain & Inventory Management
Automatic inventory records are a big win for a guy like Jarrod, who's responsible for inventory. "As far as Conservis goes, I use it for grain inventory, how much grain do we have left," Jarrod said. "Which is a big part of our income, so how much is left in the bins, or how much did we put in the bins last year, and you can really see the bottom dollar figure. To me, that's what you want to get out of Conservis is the bottom dollar per field, per acre, on each field individually."
"It really makes everything a lot easier and smoother, and I feel a lot better about it knowing that it's probably more accurate than if I were to have a pen and paper."
Jarrod finds that Conservis makes some conversations go a lot easier. "You can just press a button, and I can show my partners what we have left, or print out a report," Jarrod said. "It takes a little stress off your shoulders I guess, more than anything for me." Time is a big deal in farming, making efficiency and time-saving tools valuable in the field and in the office. Feeling hostage to Mother Nature is never any fun, but this makes controlling what you can control that much more important to the Wiens. "You never know when you can get out in the field," said Jarrod. "So anytime something takes less time but it's more accurate, it's just a bonus."
Controlling Profit Margins
Andrew views Conservis as a way of staying in control of profit margins. "Being able to pull up reports and see exactly what you're doing and where your dollars are going and how those dollars translate into more revenue, it's just another level of control in a different aspect than just yield. It really translates into a dollar figure and that's what I'm really excited for," Andrew said. "Going into the future with me and Jarrod, and Collin, we're very progressive and we do a lot of test strips and seeing [on a] per acre basis what pays and what doesn't is something I'm very interested in. It's something that we don't know exactly where we are at in a lot of those situations, and I think Conservis can really be a benefit to helping us figure out what pays and what doesn't."
Andrew's brother Jarrod is excited for Zone Economics, which empowers the Wiens to perform cost-based analysis of their growing activities down to the square yard. "You can see, 'Where was this variety good?' 'Where was this variety bad?' You can compare your same varieties throughout the whole scale of your operation," said Jarrod. "You can just break it down so much and see what fields you could've done better in financially." He loves that Conservis pinpoints what activities on what fields were more lucrative, based on the costs that went into the field. Jarrod knows that a high-performing field is not necessarily a more profitable field. He's looking toward the future where Conservis will continue to bring financial insights to light.
"It really translates into a dollar figure and that's what I'm really excited for."
A Sustainable Future for Upcoming Generations
Scott is anxious and excited to hand over the family business to his two sons and nephew. "It makes my life easier because that's one aspect of our operation that I can go to bed at night and sleep well, without staying awake wondering how my kids are going to take care of all this," he said. He views Conservis as the tool that's helping him hand off the baton. "That is the goal for us and one of the reasons we've subscribed to the services offered by Conservis," said Scott. "Whether it's power, or free time, or whether it's one step closer to retirement, it's helping me to accomplish what I want to accomplish. That, I believe, is something that Conservis is going to do for us."
His son Andrew agrees. "Conservis has definitely freed up more personal time to hunt and fish and aside from that, just dedicating time to the farm," Andrew said. "You know, we really do live this lifestyle, it's what we're all here for and hopefully it's something that our future generations will want to do, too," said Andrew. "I think that's the main focus, just building this operation into something that's more sustainable for future generations."
"Anything that helps me to hand off this operation to my heirs, I can say that's a favorite part."
Is Conservis right for you?
---
Let's start with a conversation.