When Tyler Buba of Lewis Farms recalls the generations before him, his eyes light up as he talks about the family history. It comes down to accepting challenges and making innovative decisions. As the fourth generation operator of the cropping enterprise, Tyler oversees roughly 500 acres of seed potatoes and 4,000 acres of grains. He embraces these challenges with the same forward-thinking approach that his Grandfather Jack first brought to life two generations past.
When Tyler's financial advisors suggested he look into a farm management software solution, this legacy of pioneering decisions fueled Tyler's eagerness to explore Conservis. Tyler, along with Lucy Salmon who manages the back office and works with the 1,000 head of cattle enterprise of Lewis Farms, knew they needed a platform robust enough to manage different arms of the farm. Conservis' ability to integrate these differing enterprises intrigued them.
Tyler and his cousin Kyle are raising the fifth generation of Lewis farmers and they embraced the opportunity to adopt Conservis, in part to help continue the family legacy. "The world's changing whether we like it or not. How many old farmsteads do you drive by that the old Farmall M [tractor] is sitting there rusting and the farm isn't operating anymore? Maybe it's not always best to be first, but you sure want to be second or third adopting something," says Tyler.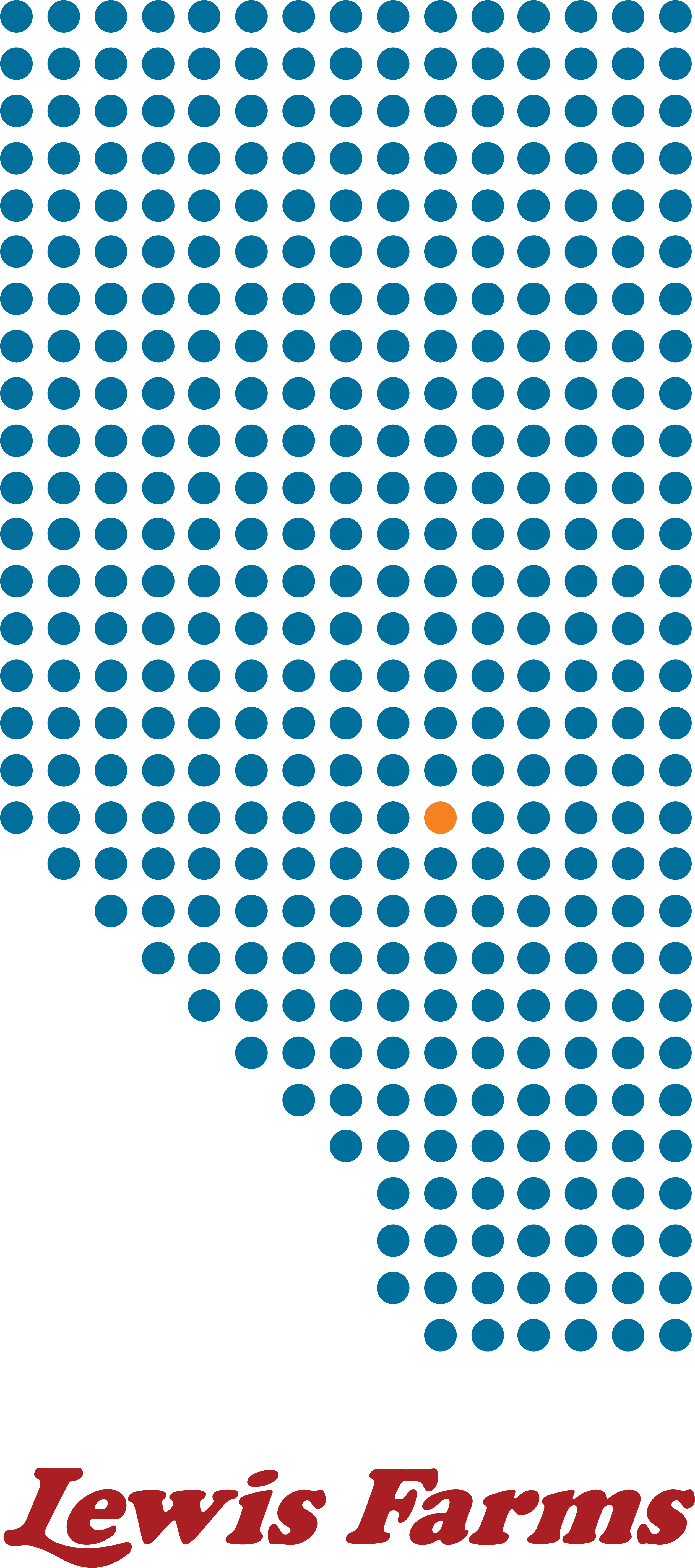 Headquarters: Spruce Grove, AB, Canada

Barley, Canola, Corn, Seed Potatoes
year they started using Conservis
Managing Multiple Enterprises Under One Business
Making Strong Use of Machine Data
Enhancing Financial Decision Making
Tyler Buba has known pretty much all his life that he wanted to stay on the family farm and pass it on to the next Buba generation. However, as a large farm business operating multiple entities under its roof, he needed to keep the forward momentum his grandfather started. He desired an effective tool for recordkeeping, enabling them to prepare for future generations operating the farm while growing the entities with accurate cost of production insights.
The farm was collecting machine data with John Deere Operations Center, but Tyler felt it was underutilized and they were losing opportunities for seeing true costs, especially on the cropping side. As a farm operating under CanadaGAP® certification (good agricultural practices), they needed a stronger method of reporting data. These internal pressures to find the best solution for making the most of their information, with a clear focus on improving profits while growing the business, did not end at the farm office.
Tyler wanted farm management software that would give him the information he could share with his trusted advisors. He wanted to be able to answer the question: How can our CPA give us better financial advice?
The answer to this question, and more, Lewis Farms found in Conservis.
Comprehensive Management of Multiple Enterprises
Between the seed potato crops, grain, and cattle segments of Lewis Farms, Tyler appreciates that Conservis helps manage all of the enterprises. "There are multiple moving parts and when we're running three, four separate entities within the business, it's important to know each one's pulling its weight." This was a significant motivator when considering adopting a farm management solution - understanding the inputs and costs associated with all enterprises in order to see the big picture of the business.
Tyler was eager to get Conservis running so they could see costs on the cropping end of the business, for both potatoes and grain. They now can see them separately, but as pieces to a whole picture of business performance. Conservis empowers Tyler to manage the different arms more efficiently. "I just don't have enough time or enough of me to go around. So if we can cut out one call a day per guy, that's a big difference in my life," says Tyler.
With Conservis, Tyler can now see each sector of the farm clearly, understand where there's opportunity for change, and make decisions specific to that arm of operations. "Just so many moving pieces under one name help us dial in how each sector of the farm is performing," states Tyler.
"We're trying to do too many things that are intertwined that our equipment costs per acre, say, is way, way more than a straight grain farmer. Why? Because it needs to be. We got a raft of potato equipment, and we're trying to feed cows every day. It's just not as clear for us, where this system [Conservis] helps us dial in."
Refined Advice from CPAs for Better Financial Decisions
"Typically, with accounts you're doing your year-end, your tax return, and you're looking back. Conservis gives you an opportunity to look forward."
When Lewis Farms selected their firm for accounting and bookkeeping, they did so because of their specialization within agriculture. "They understand what we're going through and how the industry works. They're a good sounding board," says Tyler.
This role of sounding board is what led Lewis Farms to connect with Conservis. Tyler's advisor suggested they look at farm management software as a tool to make better financial decisions. Tyler says, "His feeling was that Conservis would be a good fit for us."
Lewis Farms looks to their CPA firm for more than accounting - they look to them for advice as a trusted business advisor. Lewis Farms looks to Conservis as more than a piece of software. They see Conservis as the piece of the data puzzle that enables them to get better advice. Using the real-time information within Conservis, Tyler says he looks to their CPA to answer questions such as:
Where do we stand as far as an industry standard?
Are we making sense here?
Where do we need to pick it up, or maybe we're ahead of the pack?
The questions CPAs are able to answer with data available from Conservis translate into actions the farm can take to improve processes and outcomes - increasing profitability.
On the potato side, they now answer questions in conjunction with their CPA firm. "They've seen value there for us on making decisions within that enterprise," states Tyler. "Can we afford the new Spud Digger? Is that something we need? Just being more informed, both us and them."
Tyler also appreciates the extra advantage Conservis gives with accuracy amid pressures on markets. "I think more automation, less room for human error, is big. Ag is such a tight margin industry."
Lucy, in charge of billing and serving as the Back Office Manager, said the credibility and knowledge of the farm's CPA helped them feel they were "not going into it blind. You know that they've got experience with that program, as well as a Conservis team on the back end. I think it's a stronger team." Building this ecosystem of partners is at the core of what Conservis does, all with the end goal of empowering the grower.
Cost of Production & Actionable Machine Data
"Going back to the cost tracking, looking at how a field is producing certain parts, or how our VR [variable rate] is paying off at the end of the day without really diving into it and doing a lot of work to figure it out. With that cost tracking with Conservis, it's a lot clearer picture and easier to get to that picture."
Actionable Machine Data
Lewis Farms has experienced an evolution of data accessibility and data applications, especially as they learn to lean into the value of Conservis. Tyler says, "It opens more doors for us, gives us more info. It's integrated into the machines now. Why not use it? You have access to it."
Of the many moving parts within Lewis Farms, Tyler says they were quite familiar with John Deere Operations Center long before they heard of Conservis. "We had a bunch of data piled up that I'm not going to say wasn't useful, but pairing it with Conservis allows us to do more with it. Unmanaged data is not much better than no data."
Cost of Production
"We're now using Conservis, putting numbers to that yield on cost of production and dollars per acre," said Tyler. The real-time access through Conservis saves valuable time as he manages multiple aspects of the business. "I really like that feature. Just having access to these numbers at the drop of a hat, and not having to go back and dig up an invoice and then figure out how much I used."
The machine data now coming into Conservis lets Tyler answer questions quickly and accurately. "How much does it cost us to produce a ton of cereal silage? Now we know. Before we were close, but now we really know. With the data that comes out of the John Deere Ops Center we can bring that into Conservis and then with the financial inputs we can get that cost per acre," says Tyler. "Embracing technology gives you answers."
When planning for each season, Tyler relies on inventory tracking with Conservis. "We go through each field, and then make sure the right fertilizer rates are plumbed into each field. It [Conservis] gives us a really good idea on how much product we need."
Inventory tracking of inputs and usage with Conservis has also been a significant benefit for Lewis Farms, and Tyler is enthusiastic about the move from spreadsheets. "Instead of going into Excel, that's just going straight into Conservis. The cost tracking is huge. We have a hundred invoices split a hundred ways. So when we are tying costs to our products applied directly in Conservis, there's nothing for us to figure out. Not trying to do the math in your head every time someone asks you what your cost of production is on a crop. It's just all in one place, and it's pretty easy to get at," reiterates Tyler.
Improved Marketing & Relationships with Customers
The data Lewis Farms collects coupled with access to real-time Conservis reporting helps preserve and strengthen customer relations. Lucy spoke of the value beyond the dollar and how they use Conservis information to hold informed conversations with customers. Lucy appreciates that she can provide customers with accurate, real-time data, as they quickly adjust to supply and demand.
With numbers at their fingertips, Lewis Farms has informed conversations with customers, and can address any supply numbers before they become an issue.
"The trucks come in, we can weigh them, we load them, weigh them out. And it creates a shipping ticket which is tied to the contract so we could see how many tons that contract has. And we see, 'Oh, actually, we could be short on this one.' So, it was great for Tyler because we had the numbers at our fingertips."
Impressive Customer Support Delivering Timely Solutions
After the introduction from his CPA, Tyler appreciated the hands-on treatment Conservis provided (as much as can be during a pandemic). "You guys rolled out a COVID red carpet for us, I'll say." Even though it was a challenging time, Tyler felt that Conservis did everything possible to help his farm get the best experience adopting the farming software.
"The team you guys have built, it's impressive."
As Tyler and his team navigate the Conservis platform, they know they can rely on the Conservis' top rated support to help lead them over any hurdles. "Every experience I've had with anyone on your team has been extremely helpful and positive, and I can't say enough good about the people."
On a first name basis with Conservis team members, Tyler feels he can reach out at any time and ask any question. "Those guys can't do enough for you and they're available," says Tyler. "And they're not too proud to not know something which I really appreciate [them] saying, 'Hey, we're not sure, but we're going to look into it' or whatever. That's huge to me. Instead of saying 'whatever' and being untruthful, the people and you guys have done tremendous work in my opinion."
Enhanced Traceability & Easy Reporting
Lewis Farms is saving time and energy with enhanced traceability and easier reporting. Tyler says it makes his life easier to have the data readily available. "Without having to look up the load history and crunching it out to figure out what's left, Conservis can just spit out a contract report, and I can tell my guy in two minutes what he needs to put on the truck."
To maintain CanadaGAP® certification, Lucy utilizes Conservis input reports to track all field activities pertaining to potato crops. From receiving the seed to planting, as well as how they handle equipment, Lewis Farms has the data they need to satisfy traceability requirements.
Lucy also states that she can, "easily do my chemical reports which summarize what we've done. It gives me the date, what we applied, and the rate we applied. It gives the weather, which we like, too." Tyler agrees with the ease of use and accurate reporting. "With the cost tracking we are implementing with Conservis, it's a lot clearer picture and it's easier to get to that picture.
Those at Lewis Farms are confident that not only is the data with Conservis accurate for reporting, but it is secure. Tyler states, "We asked you guys what becomes of the data and who owns it. You guys were straightforward, saying, we're kind of the shepherd, keeping it gathered up, but at the end of the day it's yours, and no one else's."
"Now, my reports are quick and they're no longer handwritten."
Is Conservis right for you?
---
Let's start with a conversation.