Brueggeman Crop Services is a fourth-generation family operation located in Miller, SD. Nestled between the state capital of Pierre and the city of Huron, Miller is home to about 1,400 people. Growing primarily corn, soybeans, and a bit of wheat, brothers Reno and John oversee the farm's 7,000 acres. The family farm used to function as a livestock operation, but the brothers exited that part of the business in 2011, shifting focus to cash grain farming. To round out their business, they also own a crop insurance agency and Channel seed business.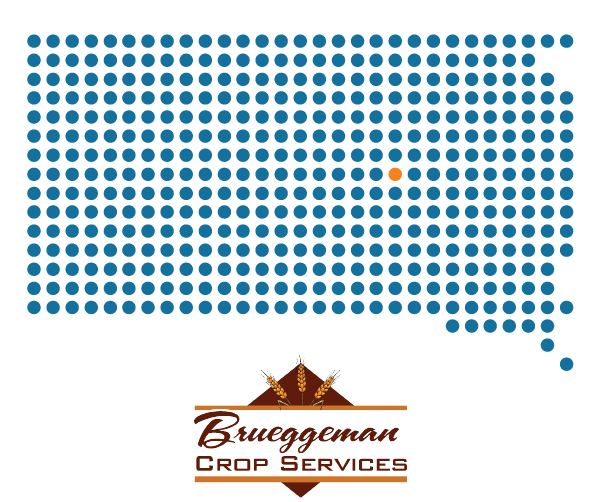 Brueggeman Crop Services

Headquarters: Miller, SD

Crops Grown: Corn, Soybeans, & Wheat
generations as a family farm
year they started using Conservis
Breaking Free from Spreadsheets
Accurately Tracking Grain
Improving Data Integration
Fourth-generation grower, Reno Brueggeman, is a straightforward guy with an analytical mind. He began his career in ag lending in the late 1990's, and his profit-driven foresight and attention to cash flow comes naturally. Reno was in search of a program that would finally get him off the dozens of Excel spreadsheets that he'd grown to loathe. The spreadsheets did not integrate with their Climate FieldView™ technology, nor did they update themselves based on the latest fieldwork.

First off, Reno wanted a system to track grain inventory efficiently and accurately. He also wanted an organized solution that would work in tandem with their Climate FieldView™ yield monitors and planting data to calculate an accurate cost of production per acre. "We wanted to be more specific field-to-field, and we did a lot of research looking for that one company that would tie in with our integration and get it down to a cost per acre basis," said Reno.
Grain & Inventory Tracking
"Our biggest cost savings we've seen on this program is our grain inventory. Everything gets streamlined from the grain cart to our computer system in the office," said Reno. "Then when we're hauling out in the spring, summer, winter months, it really streamlines our inventory in and out." Conservis caught one or two of Brueggeman's loads that were nearly destined to have been assigned to a neighbor who owned the truck behind theirs at the local elevator.
"Conservis caught that and so that saved us about $5,000 to $6,000 on that load," said Reno. "A lot of times you get an assembly sheet in the elevator and it looks right, but how good are we at fine tuning and double checking our errors if there was one at the elevator? And the first year we had this software it caught that for us. So, right there it paid a lot of it back."
"The grain inventory is really great. It's within a percent or two from when you fill the bin to empty it. You'll always have a little bit of shrink, but it comes in so accurately it's uncanny."
His brother John enjoys this part of the technology. "The software integrates with Climate FieldView™ and our scale heads on our grain carts, where [before] the guys were used to having to write down every load," said John. "Once we get set up and we're going to a certain bin, they just hit enter on the grain cart and it unloads. It saves a lot of time that way. Coming back, if the field average doesn't match what the loads are, you know somebody missed a load." John is grateful that the software removes the potential for human error with something so lucrative as grain settlements.
"This program pinpoints if you made money or not," said John. "It basically keeps track of your inventories." Prior to Conservis, the Brueggeman's didn't know what their inventory levels were. "Used to be you got up in the bin and looked and you estimate how much is left in there. If you wanted to afford contracts in grain in the wintertime, you had to guesstimate it. Now you know exactly."
Reno believes that Conservis gives him an advantage because it delivers their total cost per acre. "Back when I was an ag lender, the hardest question that operators couldn't answer for me was what their cost per bushel or acre was, and this does it for you," said Reno.
Reno craved a solution that would take their total purchased inventories for fertility and spray applications and deliver them a cost per acre down to the fluid ounce. "And your program, partnering with Climate FieldView™ and even John Deere [machine integration], really breaks that down for us and streamlines that into a report that we can print off." Reno enjoys that when they're done with a field, they can see what was accomplished on a field-by-field basis.
"As long as you enter in the correct data and you use it to its full capacity, it will give you a cost per acre breakdown like you've never seen before."
Connecting to Climate FieldView™
Farming requires a great deal of technology these days. To truly get a full picture of what's happening on a field basis, it's important to have data and machinery that communicate together. While silos are good for grain storage, they are bad for data. Reno gets this and it's why he conducted research before signing up. He wanted a platform that would readily show him his cost per acre.
"We did a lot of research looking for that one company that would tie in with our integration and get it down to a cost per acre basis,"
"We've been using Climate FieldView™ for probably five or six years now," said John. The Brueggemans wanted technology that would work in conjunction with their existing, trusted technology. "It's come so much further now. With Conservis, it saves all of our planting data, all of our spring data and all of our harvesting data. If you try certain chemicals out, you get test plots and you can overlay it and zone it out, and it gives you the cost analysis breakdown." John relies on the Zone Economics tool to show him whether or not they made money on any given field, showing him it's worth repeating or not.

Reno believes that machine integration is a great program to fully utilize the equipment that nearly every farmer uses. Between the monitor readings and the high-quality data, having a system to pull in all those readings allows him to focus on what matter most, profit.
The Brueggemans partner with their cousin Brady on certain inputs. They buy fertilizer together from the same supplier, so keeping track of who owns what can sometimes become challenging without software. They put all the fertilizer into the one tank and Conservis takes what is applied to the field and as it's being applied, it removes those gallons from inventory showing real-time numbers. Then at the end of the year the Brueggemans can see how many gallons remain in the tank and who they belong to. The system allows them to settle up with very little effort. "It's a really good benefit for us to track our expenses that way, especially when you're partnering with another entity in your operation," said Reno.
"With Conservis and the FieldView™ platform, it's accurate right down to the ounce. Everybody's happy with it because it's right on the money."
Without Conservis, Reno believes it would have to be written down by both parties and then hopefully they'd come out the same at the end of the year. "But this way, it's a hard copy and we haven't seen an error as far as the equipment process of recording that goes," said Reno.
John believes that Conservis takes the place of one employee. "I do all of the spraying and the recordkeeping has been phenomenal," John said. "I used to have to fill out paper handwritten tickets for my applicator license in case I got audited." He recalls writing down how many acres he applied in the field and the total gallons consumed. Now his spraying activities run through their Climate FieldView™ account before flowing into Conservis, making the process efficient and effortless by comparison. "Now it just takes all the gray area out of it," he said. "It eliminates one employee, basically."
"My favorite part is I don't have to make Excel spreadsheets anymore. It's all done for me. It's very, very user friendly." Reno believes Conservis is well suited for the person who doesn't like sitting in front of a computer. He feels that it's easy to find what he's looking for and everything down to pulling reports is quite simple. The intuitive nature of the program is a big win for the Brueggemans.
I think we eliminate one employee. We don't have to have a bookkeeper or somebody designated to keep track of everything, manually writing it all in.
Each year, the Brueggemans begin using Conservis' Planning and Budgeting module in November and December, in preparation for the next crop year. They enter in actual or estimated costs for inputs like seed, fertilizer and chemicals. "It's a good way to budget out and see where we can lock in future prices to make us profitable," said Reno.
"Your lending officers always want to know what your plan is for the year."
The ability to plan and budget allows the Brueggemans to focus on turning a profit. It enables them to understand what their final selling price per bushel needs to be to make money. "Everything in budgeting is a guess. You take your 10-year average and what you think you're going to raise and budget accordingly," said Reno. "But this gives you a good idea of where you need to price your grain."

The Brueggemans use several fields to get an idea of what their overall chemical and input costs will be for the year. This allows them to pinpoint a target commodity price come fall and they are able to budget from there. John appreciates that Conservis gets him close to knowing his bottom line early in the planning season and that he can share that info with his lending officer.
Crop Insurance & FSA Reporting
As a crop insurance agency owner, Reno sees Conservis as phenomenal for reporting. "It gives you an RMA yield and an actual yield," said Reno. "And the reason why I say that is because as an example on corn, crop insurance uses 15% as dry corn and your local elevator uses 14.5%. Conservis will take your scale tickets and put the shrink and drying charges on there, but then goes a step further and gives you just 15% shrink on the gross bushels you sold. As a crop insurance agent, that's all I want to know."
"This program is phenomenal when it comes to acreage reporting and production reporting, as far as crop insurance records go."
Conservis is a definite time saver when it comes to insurance claims. The Brueggeman's cousin, Brady Vanzee recalls the lengthy process of gathering all the necessary data for FSA before using Conservis. Brady would have to spend many hours aggregating all the grain tickets before putting them into an Excel spreadsheet.
"Then I'd tally it up and hand it in which took forever, because if it was a good year there were a lot of tickets, especially if the corn was good," said Brady. Prior to Conservis, it took Brady an estimated full day to a day and a half if he sat down and diligently worked through the stack of papers. With the software, this boring and dreaded task is reduced significantly. "It's a matter of a couple minutes if you have everything inputted correctly," said Brady.
Rising Above the Competition
"Before we got onto Conservis, we used a competitor's product for one year and I've never heard so much yelling back and forth between two offices in my life. 'This isn't working, this isn't flowing through!' It ended up being way more work than I was doing with my Excel spreadsheets, getting everything set up." Reno feels that once everything was set up in Conservis, including their fields, bins and inventories, the software communicates well with their farm equipment. "How that streamlined as we applied everything from our inventories onto the field, it was a way better product than I've ever seen on any other platform that I've used."
His brother John attests to Conservis rising above the competition. "About three years ago we tried another farm management system and it was a fight from the get-go. We had to have all these work orders put in. You couldn't just go out and do the job, you had to set up a program first before we went and did it."
"With Conservis, everything falls into place," said John. "It runs off either your scales or your Climate FieldView™. It's just flawless after that. Once you got that set up in the spring, everything just rolls." John is also grateful for the customer support that he receives. "My experience with the Conservis support team has been great," said John. "They stay on top of things and they stay on top of us, making sure we're getting the most out of the program we can."
"Before we got onto Conservis, we used a competitor's product for one year… It wasn't a very user-friendly platform and when we went to Conservis, it all went away."
Is Conservis right for you?
---
Let's start with a conversation.